NMP Mortgage Professional of the Month: Thomas R. Sirico, Executive Business Director of mortgageNOW inc.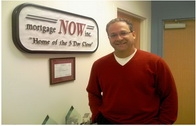 Each month, National Mortgage Professional Magazine will focus on one of the industry's top players in our "Mortgage Professional of the Month" feature. This month, we had a chance to chat with Thomas R. Sirico, executive business director of mortgageNOW inc., Red Bank, N.J. Born in Brooklyn, N.Y., Tom established Lindenhurst, N.Y.-based Mortgageline Financial Corporation in 1989, quickly becoming one of the New York area's top lenders. In 2000, he opened Amerihome Mortgage Corporation. Amerihome became a top lender for new construction sites in the New York area. Sirico's experience and contacts helped him develop a vast branch network for HCI Mortgage Corporation, producing more than $500 million in sales. Currently with mortgageNOW, Tom is part of an executive team overseeing the expansion of sales. As a seasoned mortgage industry veteran with 20-plus years invested in the industry, he has been responsible for more than $1 billion in sales over his career. He currently resides in Holmdel, N.J. with his wife, Linda, and son, Thomas Michael. What attracted you to the mortgage industry? Back in the late 1980s, right after the crash of '87, I was introduced to the mortgage industry by an attorney friend of mine. At the time, I was operating a men's and women's clothing store in Bensonhurst, Brooklyn, a borough of New York. Owning a women's store during the disco era as a 20-year-old had its perks. One day, I will put it all down on paper, and I do believe it will make a great sitcom. Anyway, through the years, I had made quite a name for myself dressing the ladies and the men. The many contacts I made served me well as I transitioned into the business. It was pretty surprising to everyone when I started writing mortgages as my clothing business was doing quite well. Then came October of 1987. I had speculated in real estate, so I was familiar with the mortgage process. I started working at a Long Island company called Mortgage Plus Bankers. Within in the first year, I was closing 20 loans each month with an assistant. I was hooked. In Staten Island, I worked primarily with builders. I would sit on new construction sites on the weekends and qualify people as they walked through the model. I loved the interaction with helping people buy a home. I would make appointments on the spot to do applications at their homes, sometimes I'd get three applications done per night. One night, I took my wife with me on an evening of applications because she didn't believe I was at people's houses until midnight. When I came down to the car after the third appointment at 12:30 a.m., with tears in her eyes, she said, "I will never doubt you again." Having her support over the years has been invaluable. Most of my business was comprised of purchase transactions. I always went to my closings. I though, what better place to network than at your own closings? You have the buyer and seller, two attorneys, a title closer, and a selling and listing real estate agent all at the same table! I quickly earned a reputation as a reliable and trustworthy loan officer. As my business grew, so did my enthusiasm. So, I opened Mortgageline Financial Corporation with a co-worker. We knew what it took to be successful, and I had a book of business ready to go. We got off to a great start and never looked back. Mortgageline became one of the premier mortgage bankers in New York. What keeps you in the business through decades of good and bad markets? Answering that question at this moment in time makes one pause before they answer. I like searching out opportunities and building relationships. I believe the challenges in our lives make us the people we are today. The decisions we make influence the quality of the lives we lead. That being said, I enjoy the relationships I have established and issues I learn about and deal with on a daily basis. Like every industry today, we need to adapt, improvise and overcome. Personally, I have benefited in helping people through these challenging times. In this industry, when business is good, it's great! When it's bad, let's just say it's challenging. We know there are a lot of independent mortgage brokers considering joining a larger firm like mortgageNOW inc. What are some of the factors that should go into making that decision? Mortgage brokers face a lot of challenges now and in the future. Regulation will continue to direct them on how to conduct business, restrict access to capital and ultimately affect profit margins. Aligning themselves with a fully-certified direct lender, it my opinion, is the best way proceed. For instance, we are a Federal Housing Administration (FHA) Direct Endorsed Lender, which allows us to underwrite all files in-house and has enabled us to have some of the fastest turn times in the industry. We at mortgageNOW know that in this market, the speed associated with closing is essential. We are confident that we will increase one's business by at least 50 percent based on our model. That is evidenced that most managers earn well over six figures at mortgageNOW. As a mortgage banker, we are well-versed on all of the new regulations being presented to the industry. Compliance, cutting-edge technology, and access to investors are all elements that are in place to support the transition from broker to banker. How has the recent Home Valuation Code of Conduct (HVCC) regulations impacted business at mortgage NOW? This regulation has certainly caused some controversy, but adapt we must. We have currently adopted the changes in a compliant and seamless manner. Our COO has implemented innovative policies to minimize the delays due to the disclosure rules, along with each investor requirement, it has been challenging. But we feel our procedures have met all regulatory requirements and without interrupting our course of daily operations to close loans. As someone who manages a large network of branches, where do you see your branch managers and their loan officers getting their business from? Originations vary on a number of conditions, location, the economy, and of course, rates. Currently, we are happy to see the media has noticed the bottoming out of home prices and low interests rates. This has sprung a resurgence in purchase business that is primarily directed toward mortgageNOW's branches through our vast real estate network. With the many short sales occurring, it is not unusual that we can close that transaction, as it is time-sensitive, generally in a week, ands much to the delight of our real estate agents. We have increased our referral purchase business 85 percent, we believe by our "speed to close" process. Our business model also provides our branches with some of the best leads in the business, as we were recognized by LendingTree and previewed in National Mortgage Professional Magazine. We utilize a direct dialing service allowing live transfer contact to magnify the volume of calls that the branches can make. All leads are entered in our LoanX engine, which allows easy access to track leads and manage their pipelines in an efficient and organized manner. It's all part of our state-of-the-art technology that has set's us apart from our competition. What tools must a mortgage originator have to compete in today's competitive marketplace? First and foremost, one must have a rich knowledge of the business. Understanding what service you provide is paramount. Respecting your position as either a mortgage broker or mortgage banker dictates that you know what you are talking about. As you can see, you have struck a nerve with me. As an originator, you are responsible for the largest investment in one's life, a house. Giving our branches the support they need is a top priority for us. For instance, our LoanX system helps our originators provide service and information to the consumer in a quick and concise manner. It will price, pre-approve, track and upload conditions on each loan supplying unsurpassed customer service. These systems allow us to close our loans, on average, of five to seven days, making our customers happy and increasing the referral business of our branches. I am proud to say that our loan officers are some of the highest paid originators in the industry. We are also very cognizant of the fact that presenting and explaining the process properly is an obligation not to be taken lightly. I am proud to say that mortgageNOW's interview and training process has helped us become successful in this aspect. How has mortgageNOW addressed the decline in warehouse line providers? I believe this has been a challenge for everyone in the industry … some more than others. We fortunately have always maintained an excellent track record and have maintained compliance with our providers. So much so, mortgageNOW has added capacity which, in turn, has increased our volume on average of 75 percent month-over-month. How does mortgageNOW view the future of mortgage banking? We believe that some changes were needed for the most part. We have to remember that there were some excesses that the market took advantage of. The corrections have been made and all signs point that the worst is behind us. FHA will continue to provide the financing the country needs as exampled by the government's commitment of $350 billion to the program over the next five years. As a direct lender of these funds and one of the top closing FHA lenders in the country, we are moving forward with some exciting additions that will increase our business and make us an attractive option for any mortgage professional who wishes to attain success in the industry. For more information, visit mortgageNOW on the Web at MTGnow.com. Our readers are encouraged to contact us by e-mail at
[email protected]
for consideration in being featured in a future "Mortgage Professional of the Month" column.