2022 Was A Bad Year For California Mortgage Originations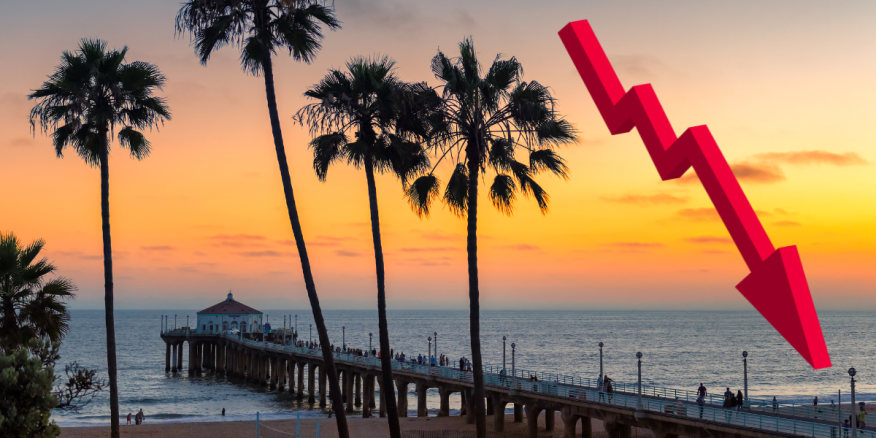 Annual state report shows originations were down 70%; origination amounts down 66.5%
The annual report of activity for 2022 under the California Residential Mortgage Lending Act paints a vivid picture of just how bad a year it was. Loans originated dropped 70% from 2021 to 2022.
The report said the number of loans originated by licensees decreased sharply to 354,114 in 2022 from 1,182,091 in 2021. The aggregate principal amount originated in 2022 totaled $172 billion, a decrease of 66.5% from 2021. 
The number of loans originated was the lowest since at least 2013. The principal amount originated was the lowest since 2018.
"Due to the financial market conditions during the reporting period, which included periods of high inflation combined with volatility, a slowdown in consumer spending and rising interest rates, there was a sharp decline in Californians refinancing existing mortgages and making new home purchases in 2022," the report said.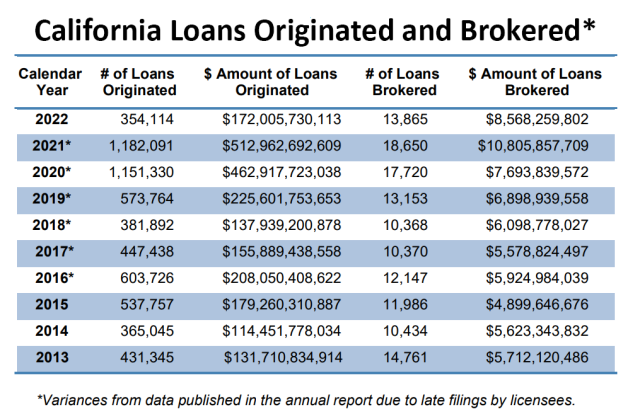 The number of loans brokered decreased by 25.7% from 18,650 in 2021 to 13,865 in 2022. The aggregate principal amount of brokered loans in 2022 totaled $8.6 billion, a decrease of 20.7% from 2021. The aggregate average amount of loans serviced by licensees each month grew by 2.6%, from $4.7 trillion in 2021 to $4.8 trillion in 2022.
The bad economy didn't stop some growth. The report said the number of licensed lenders and servicers increased by 4.2% from 421 in 2021 to 439 in 2022. The total number of branches increased by 3% from 7,195 to 7,403 in 2022. 
Also, licensees reported 15,180 consumer complaints concerning non-traditional mortgage loans in 2022, an increase of 12.3% from 2021. Licensees reported completing 4,486 foreclosures in 2022 compared to 2,961 in 2021, a 52% increase.
As of Dec. 31, 2022, California licensed 439 mortgage lenders and servicers with 7,403 branches. Of the 439 licensees, 417 filed their required annual reports. The state has issued penalties and will take administrative revocation action for companies that failed to report. Late data from 17 licensees who filed late annual reports is not included. This omission does not materially affect the integrity of the data reported in this composite report.