HELOC Share of Total Loans Hits Highest Mark in Six Years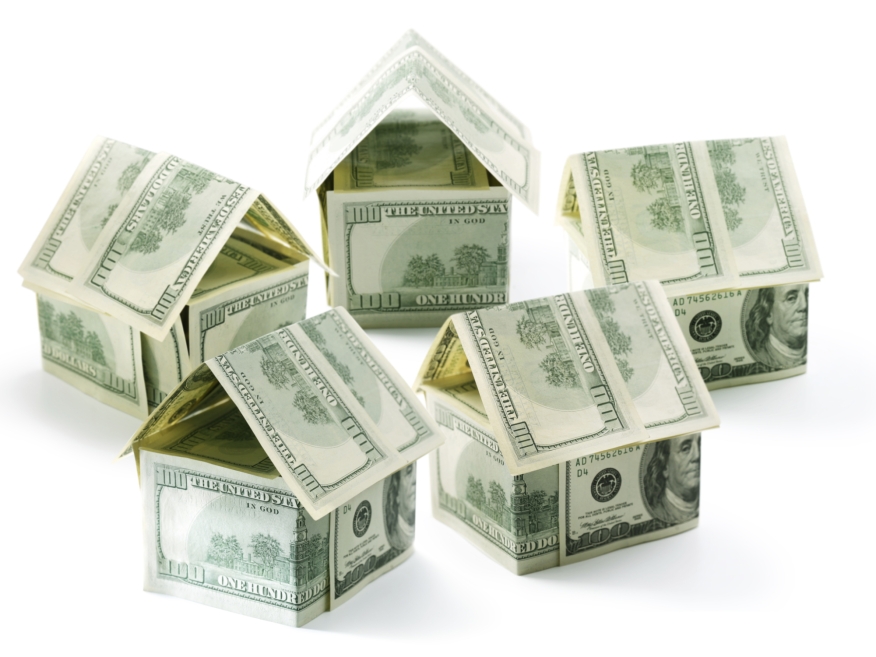 The national volume of originations for home equity lines of credit (HELOCs) has reached its highest volume in five years, yet they remain roughly three-quarters below their peak year periods in 2005-2006, according to RealtyTrac's first-ever U.S. Home Equity Line of Credit Trends Report.
Measuring a 12-month range ending in June 2014, RealityTrac found a total of 797,865 originations in this period, up 20.6 percent from the same period a year ago; this is also the highest level of HELOC originations since the 12 months ending in June 2009. The report also found HELOC originations accounted for 15.4 percent of all loan originations nationwide during the first eight months of 2014, the highest percentage since 2008.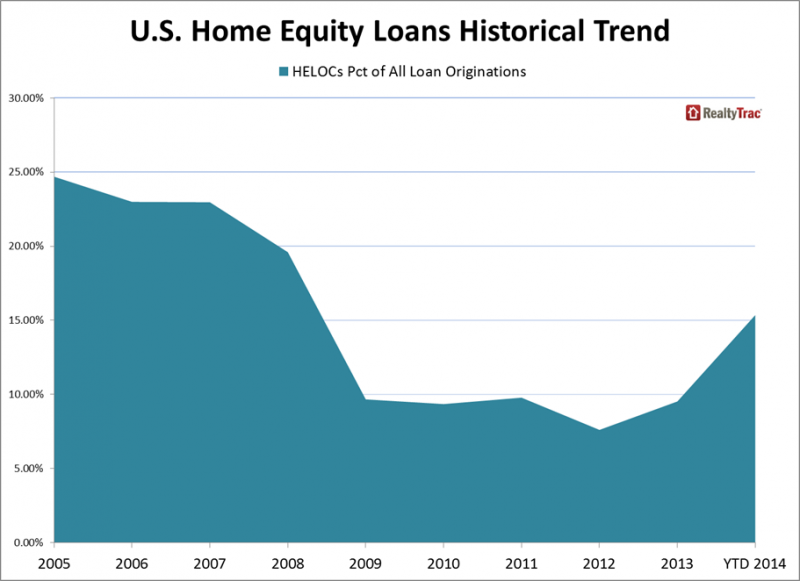 "Nearly 10 million homeowners nationwide, representing 19 percent of all homeowners with a mortgage, now have at least 50 percent equity in their homes, according to RealtyTrac data," said Daren Blomquist, RealtyTrac vice president. "Meanwhile the percentage of homeowners with severe negative equity has decreased from 29 percent in the second quarter of 2012 to 17 percent in the second quarter of this year."
RealtyTrac surveyed the top 50 metropolitan statistical areas with HELOC data available and found 49 posted year-over-year increases in HELOC originations in the 12 months ending in June 2014. Rochester, N.Y., was the sole exception, with HELOC originations down one percent. The metro areas with the biggest year-over-year increase in HELOC originations were Riverside-San Bernardino in Southern California (87.7 percent increase), Las Vegas (85.1 percent increase), Cincinnati (81 percent increase), Sacramento (65.1 percent increase), and Phoenix (60.1 percent increase).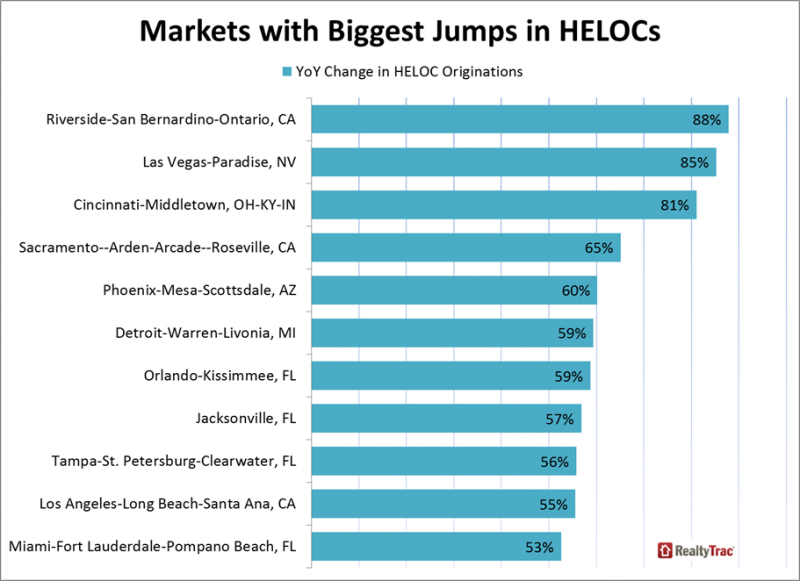 On the flipside, Minneapolis-St. Paul had the smallest spike in HELOC originations (0.2 percent increase), followed by Louisville, Ky., (3.3 percent increase), Philadelphia (3.6 percent increase), Virginia Beach (4.3 percent increase), and St. Louis (5.6 percent increase).
But even with a healthy year-over-year increase, HELOC originations were still a shadow of their pre-Housing Bubble peak of 3,299,007 in the 12 months ending in June 2006 and a 24.7 percent market share of originations in 2005. Forty-nine out of the top 50 metro areas registered HELOC originations below their previous peaks, with only Pittsburgh enjoying a record-level HELOC comeback in the 12 months ending June 2014.