Mortgage Delinquencies Down, But Foreclosure Havoc Spurs New Rifts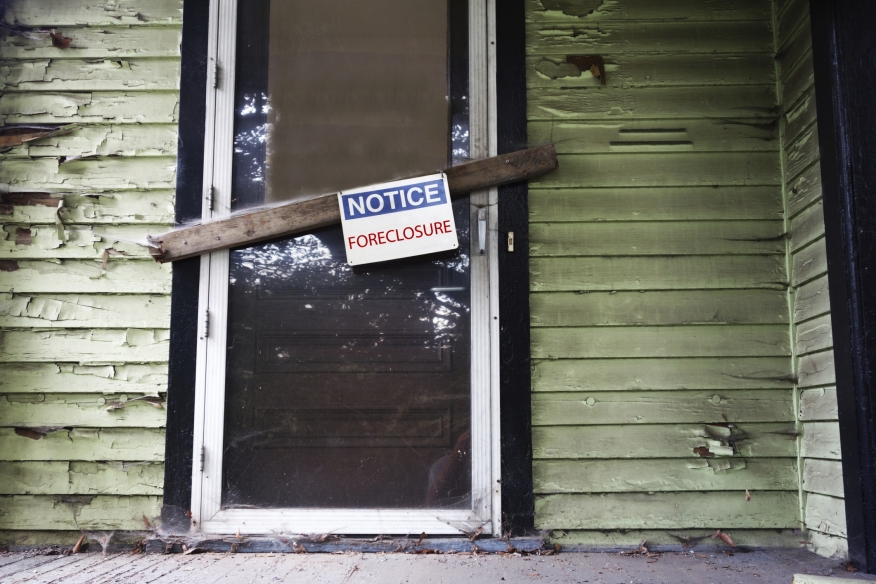 There is good news and bad news on the mortgage delinquency and foreclosure front: While the latest data has determined a decrease in the delinquency rate, a new study has found that foreclosure activity in the years between 2005 and 2009 contributed to a rise in racially segregated communities.
First, the good news … the latest National Delinquency Survey released by the Mortgage Bankers Association (MBA) has found the delinquency rate for mortgages on one- to four-unit residential properties decreased to a seasonally adjusted rate of 5.54 percent of all loans outstanding at the end of the first quarter, which is the lowest level since the second quarter of 2007. The delinquency rate fell 14 basis points from the fourth quarter of 2014 and was 57 basis points lower on a year-over-year measurement.
Furthermore, the percentage of loans in the foreclosure process was 2.22 percent, down five basis points from the fourth quarter of 2014 and 43 basis points lower than the first quarter of 2014; this is the lowest foreclosure inventory rate recorded since the fourth quarter of 2007. The percentage of loans on which foreclosure actions were started during the first quarter was 0.45 percent, down one basis point from the previous quarter and unchanged on a year-over-year measurement.
Moreover, the serious delinquency rate–defined as the percentage of loans that are 90 days or more past due or in the process of foreclosure–was 4.24 percent, down 28 basis points from the previous quarter and down 80 basis points from the first quarter of 2014.
"Delinquency rates and the percentage of loans in foreclosure continued to fall in the first quarter and are now at their lowest levels since 2007," said Joel Kan, MBA's associate vice president of Industry Surveys and Forecasting. "The foreclosure inventory rate has decreased in the last twelve quarters, and now is at the lowest level since the fourth quarter of 2007. The rate, at 2.22 percent, was about half of where it was at its peak in 2010. With a declining 90-plus day delinquency rate and the improving credit quality of new loans, we expect that the foreclosure inventory rate will continue to decline in coming quarters."
But all was not well in this survey, with Kan noting that a potential problem might be brewing in regard to the Federal Housing Administration (FHA) loan program.
"FHA loans had a decrease in overall delinquencies, including a non-adjusted 47 basis point decrease in the 90 day or more delinquent category," Kan said. "However, there was a 12 basis point increase in the percentage of loans in foreclosure and a nine basis point increase in foreclosure starts in the first quarter as distressed loans entered the foreclosure process. A large portion of the weakness in FHA performance came from the 2008, 2009, and 2010 vintages."
Now, for the bad news on the delinquency and foreclosure front. A new analysis by Cornell University researchers of the foreclosure rates between 2005 and 2009 created a new configuration of racially segregated neighborhoods. According to the paper "Neighborhood Foreclosures, Racial/Ethnic Transitions, and Residential Segregation," the typical neighborhood experienced 4.5 foreclosures per 100 homes during the housing crisis, but this figure increased to 8.1 and 6.2 homes in predominately African-American and Latino areas, respectively; in comparison, White neighborhoods lost only 2.3 homes on average.
During this period, White households were more likely to exit the communities suffering from high foreclosure rates, while African-American and Latino families moved into these areas, mostly out of financial necessity.
"Among its many impacts, the foreclosure crisis has partly derailed progress in achieving racial integration in American cities," said Mathew Hall, assistant professor of policy analysis and management at Cornell's College of Human Ecology. "Not only were White households less likely to be foreclosed on, but they also were among the first to leave neighborhoods where foreclosures were high, particularly those with racially diverse residents."
As a result of this population shift, Hall added, racially diverse communities shrunk or even disappeared as segregation grew between Latinos and whites by nearly 50 percent and between African-Americans and Whites by about 20 percent. Western and southern cities were especially hard hit by these changes.
The new paper is co-authored by Kyle Crowder, professor at the University of Washington, and Amy Spring, assistant professor at Georgia State University, and will be published in next month's edition of American Sociological Review.