New Data Confirms Rising Home Prices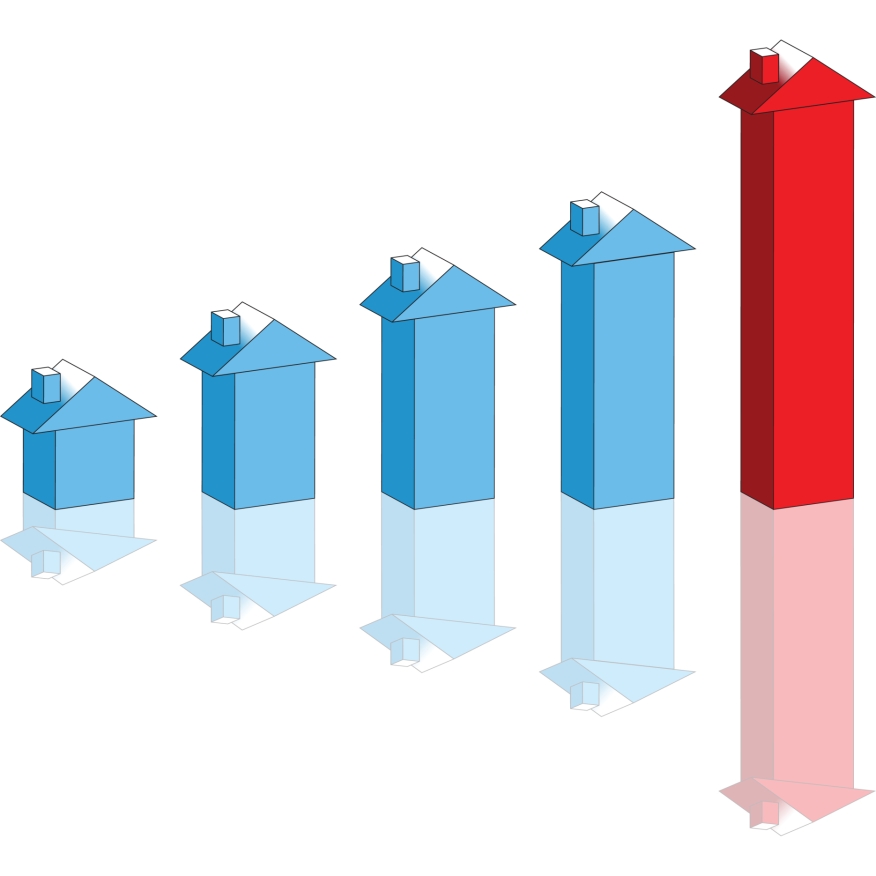 Home prices are on the rise, according to a pair of new reports, while a forecast for the multifamily market predicts an increase in vacancy rates.
The latest data released by the S&P/Case-Shiller Home Price Indices found home prices on the rise during March. The indices' 10-City Composite gained 4.7 percent on a year-over-year basis while the 20-City Composite increased five percent for the same period. The S&P/Case-Shiller U.S. National Home Price Index, covering all nine U.S. census divisions, saw a 4.1 percent annual gain in March, just slightly below the 4.2 percent increase in February.
San Francisco and Denver experienced the greatest year-over-year increases at 10.3 percent and 10 percent, respectively; San Francisco's annual gain marked its first double digit year-over-year increase since July 2014. However, 10 cities recorded declining year-over-year house prices, with Cleveland leading that list with a 1.2 percent decline.
On a month-over-month basis, the National Index and the 10-City Composite only registered a 0.8 percent rise while the 20-City Composite barely inched up 0.9 percent. Despite its poor year-over-year showing, Cleveland reported a month-over-month increase of 0.4 percent, its first positive increase since August 2014, while New York was the lone market to see a negative month-over-month change with a -0.1 percent drop.
David M. Blitzer, managing director and chairman of the Index Committee for S&P Dow Jones Indices, used this data to offer an assurance that unfortunate recent history was not repeating itself.
"Given the long stretch of strong reports, it is no surprise that people are asking if we're in a new home price bubble," Blitzer said. "The only way you can be sure of a bubble is looking back after it's over. The average 12 month rise in inflation adjusted home prices since 1975 is about 1 percent per year compared to the current 4.1percent pace, arguing for a bubble. However, the annual rate of increase halved in the last year, as shown in the first chart. Home prices are currently rising more quickly than either per capita personal income (3.1 percent) or wages (2.2 percent), narrowing the pool of future homebuyers. All of this suggests that some future moderation in home prices gains is likely. Moreover, consumer debt levels seem to be manageable. I would describe this as a rebound in home prices, not bubble and not a reason to be fearful."
Separately, the Federal Housing Finance Agency (FHFA) released its latest House Price Index (HPI) report, which found house prices up 1.3 percent in the first quarter of this year, marking the 15th consecutive quarterly price increase in the purchase-only, seasonally adjusted index. FHFA's seasonally adjusted monthly index for March was up 0.3 percent from February.
The FHFA stated that its seasonally adjusted, purchase-only HPI rose five percent from the first quarter of 2014 to the first quarter while prices of other goods and services fell 1.5 percent. Thus, the inflation-adjusted price of homes increased approximately 6.5 percent over the latest year, the FHFA added.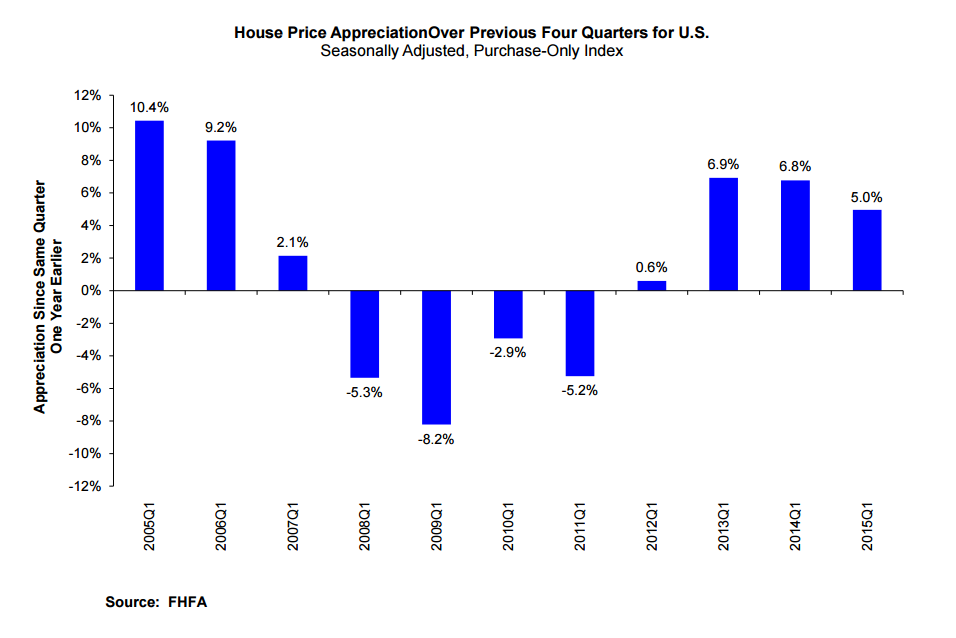 Furthermore, the FHFA reported that first quarter's home prices rose in 48 states on a year-over-year basis, with Colorado experiencing the greatest increase by state at 11.2 percent and California's Oakland-Hayward-Berkeley market having the highest metro area spike at 13.4 percent.
There is also significant movement in the multifamily market, according to the latest commercial real estate forecast from the National Association of Realtors (NAR), which predicted a 0.1 percent increase in new apartment construction over the coming year. NAR is expecting vacancy rates increasing slightly from the current 4.3 percent to 4.4 percent in the second quarter of 2016. Average apartment rents are projected to increase 3.6 percent this year and at a slower pace of 3.3 percent in 2016, while the multifamily net absorption is expected to total 172,524 units this year and 153,747 next year.
NAR added that today's markets with the lowest multifamily vacancy rates are San Bernardino-Riverside, Calif., at 2.5 percent; Sacramento, Calif., 2.6 percent; New Haven, Conn., and Providence, R.I. at 2.7 percent; and a three-way tie between Cleveland, Oakland-East Bay, Calif., and San Diego at 2.8 percent.