Home Prices Keep Rising, Foreclosures Keep Falling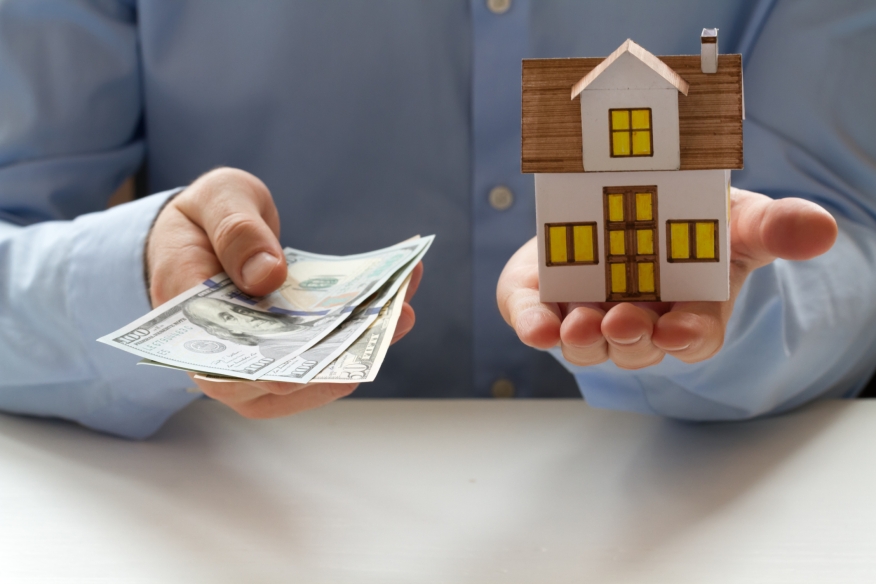 New data reports released this morning find a more-of-the-same scenario, with home prices continuing to rise while foreclosure rates continue to drop.
The National Association of Realtors (NAR) reported the median existing single-family home price increased year-over-year in 163 out of 176 metropolitan statistical areas (MSAs) tracked by the group during the second quarter. This constitutes 93 percent of major MSAs; in the other 13 areas (seven percent), median prices were down from a year earlier. A similar situation played out on a quarter-by-quarter measurement, where price gains were recorded in 85 percent of metro areas—including 34 metro areas recording double-digit increases. While the number of double-digit declines is down from the first quarter, when 51 metro areas saw this level of pricing activity, it is up from the 19 metro areas experiencing double-digit increases in the second quarter of 2014.
NAR added that the national median existing single-family home price in the second quarter was $229,400, up 8.2 percent from the second quarter of 2014 ($212,000). Four of the five most expensive housing markets in the second quarter were in California: San Jose, Calif., metro area, where the median existing single-family price was $980,000; San Francisco, $841,600; Anaheim-Santa Ana, Calif., $685,700; Honolulu, the sole non-California market in the mix, at $698,600; and San Diego, $547,800.
Lawrence Yun, NAR's chief economist, expressed concern that increasing home prices will further exacerbate the affordability housing situation.
"With home prices and rents continuing to rise and wages showing only modest growth, declining affordability remains a hurdle for renters considering homeownership—especially in higher-priced markets," Yun said. "The ongoing rise in home values in recent years has greatly benefited homeowners by increasing their household wealth. In the meantime, inequality is growing in America because the downward trend in the homeownership rate means these equity gains are going to fewer households."
For homeowners facing financial peril, there was good news in CoreLogic's latest National Foreclosure Report, which found that the foreclosure inventory in June declined by 28.9 percent and completed foreclosures declined by 14.8 percent since June 2014. The number of foreclosures nationwide decreased year over year from 50,000 in June 2014 to 43,000 in June 2015, representing a decrease of 63.3 percent from the peak of 117,119 completed foreclosures in September 2010.
As of June, CoreLogic identified the national foreclosure inventory to include approximately 472,000, or 1.2 percent, of all homes with a mortgage, down from 664,000 homes, or 1.7 percent in June 2014. June's foreclosure rate is the lowest since December 2007. Furthermore, the number of mortgages in serious delinquency—defined as 90 days or more past due, including those loans in foreclosure or REO—declined year-over-year by 23.3 percent, with 1.3 million mortgages, or 3.5 percent, falling into this category. This is the lowest serious delinquency rate since January 2008. On a month-over-month basis, the number of seriously delinquent mortgages declined by 3.4 percent.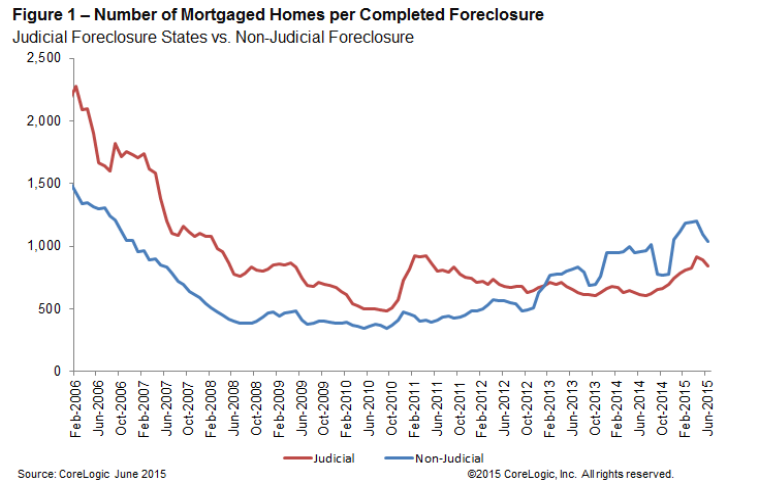 The five states with the highest number of completed foreclosures for the 12 months ending in June were Florida (102,000), Michigan (46,000), Texas (33,000), California (29,000) and Ohio (27,000). These five states accounted for almost half of all completed foreclosures nationally. The highest foreclosure inventory as a percentage of all mortgaged homes was found in New Jersey (4.7 percent), New York (3.7 percent), Florida (2.7 percent), Hawaii (2.5 percent) and the District of Columbia (2.4 percent).
"Serious delinquency is at the lowest level in seven and a half years reflecting the benefits of slow but steady improvements in the economy and rising home prices," said Anand Nallathambi, president and CEO of CoreLogic. "We are also seeing the positive impact of more stringent underwriting criteria for loans originated since 2009 which has helped to lower the national seriously delinquent rate."