A Perfect Storm? Mortgage Applications Down, Rents Too High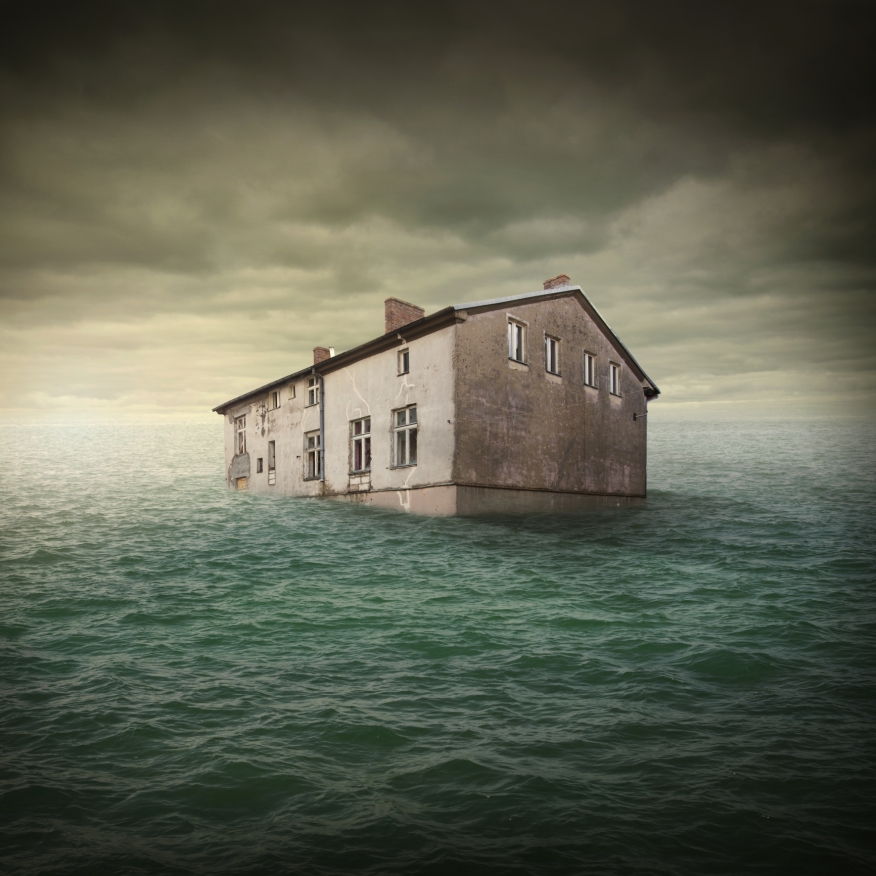 The latest housing data offers a challenging environment: Fewer people are applying for mortgages, rates are inching upward, the average price of rent is more than inching up, yet mortgage delinquencies are dropping. If anything, the housing market is not boring.
The new Mortgage Bankers Association (MBA) Builder Application Survey data found mortgage applications for new home purchases in July were down four percent from the previous month. The average loan size of new homes decreased from $321,678 in June to $316,995 in July, while conventional loans composed 63.4 percent of loan applications and FHA loans occupied 18.8 percent. The MBA estimated that new single-family home sales were at a seasonally adjusted annual rate of 534,000 units last month, which is an increase of 7.7 percent on an adjusted basis from the June pace of 496,000 units but a 2.2 percent decrease on an unadjusted basis.
"Mortgage applications to home builder subsidiaries for new homes declined at a rate in line with the slowdown observed in the overall purchase mortgage market," said Lynn Fisher, MBA's vice president of research and economics. "This was driven in part by an increase in interest rates relative to earlier in the spring. Nonetheless the number of builder applications was still up 15 percent compared to a year ago."
On the other end of the housing spectrum, new data from Zillow determined that renters should now expect to put 30.2 percent of their monthly income toward rent, which represents the highest income-to-housing percentage ever recorded. In comparison, Zillow said that home buyers should expect to pay 15.1 percent of their income towards mortgage payments.
In some major markets, the income-to-housing percentage is rough for both buyers and renters—Zillow cited San Jose, where renters and buyers need to budget about 42 percent of their incomes towards housing.
"Our research found that unaffordable rents are making it hard for people to save for a down payment and retirement, and that people whose rent is unaffordable are more likely to skip out on their own healthcare," said Zillow Chief Economist Svenja Gudell. "There are good reasons to rent temporarily—when you move to a new city, for example—but from an affordability perspective, rents are crazy right now. If you can possibly come up with a down payment, then it's a good time to buy a home and start putting your money toward a mortgage."
Zillow added that mortgage payments will continue to be affordable, even in the event of a rise in mortgage rates. And speaking of rising rates, Freddie Mac's latest Primary Mortgage Market Survey (PMMS) found average fixed mortgage rates on the upswing for the first time in four weeks.
According to Freddie Mac, the 30-year fixed-rate mortgage (FRM) averaged 3.94 percent with an average 0.6 point for the week ending Aug. 13, up from last week when it averaged 3.91 percent but considerably lower than the 4.12 percent of a year ago. The 15-year FRM this week averaged 3.17 percent with an average 0.6 point, up from last week when it averaged 3.13 percent but lower than the 3.24 percent of last year.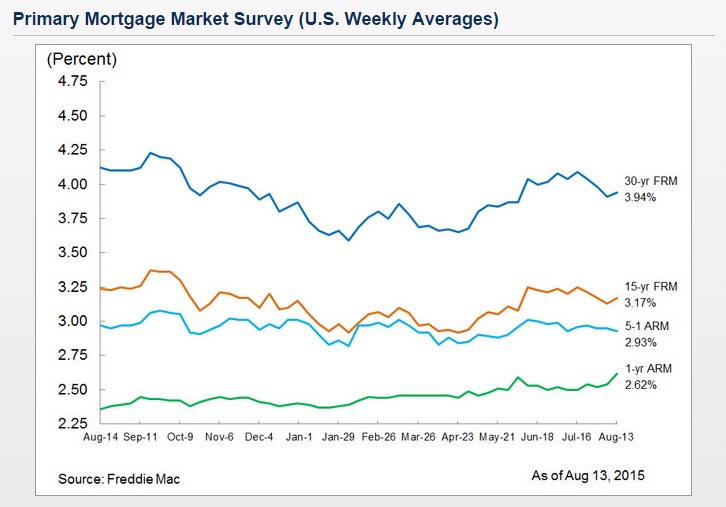 The five-year Treasury-indexed hybrid adjustable-rate mortgage (ARM) averaged 2.93 percent this week with an average 0.5 point, down from last week's 2.95 percent and last year's 2.97 percent. And the 1-year Treasury-indexed ARM averaged 2.62 percent this week with an average 0.3 point, up from last week's 2.54 percent, but below last year's 2.36 percent.
Sean Becketti, chief economist at Freddie Mac, noted that a mix of factors ranging from a positive July jobs report to the tumult in the Chinese economy to the potential of a September rate hike from the Federal Reserve is creating more than a little uncertainty.
"Headed into the fall, we'll likely see continued interest rate tension, with dollar appreciation weighing against possible Fed rate hikes leaving the rate outlook clouded," said Becketti.
If there is any aspect of housing where uncertainty is not present, it would be in the delinquency rate. The MBA's latest National Delinquency Survey found the delinquency rate for mortgages on one-to-four-unit residential properties decreased to a seasonally adjusted rate of 5.30 percent of all loans outstanding at the end of the second quarter, which is the lowest level since the second quarter of 2007.
The delinquency rate decreased 24 basis points (bps) from the previous quarter and 74 bps from one year ago, while the percentage of loans on which foreclosure actions were started during the second quarter was 0.40 percent, a decrease of five bps from the previous quarter and the same rate as a year earlier. The serious delinquency rate—the percentage of loans that are 90 days or more past due or in the process of foreclosure—was 3.95 percent, down 29 bps from the previous quarter and down 85 bps from the second quarter of 2014; this was the lowest level since the fourth quarter of 2007.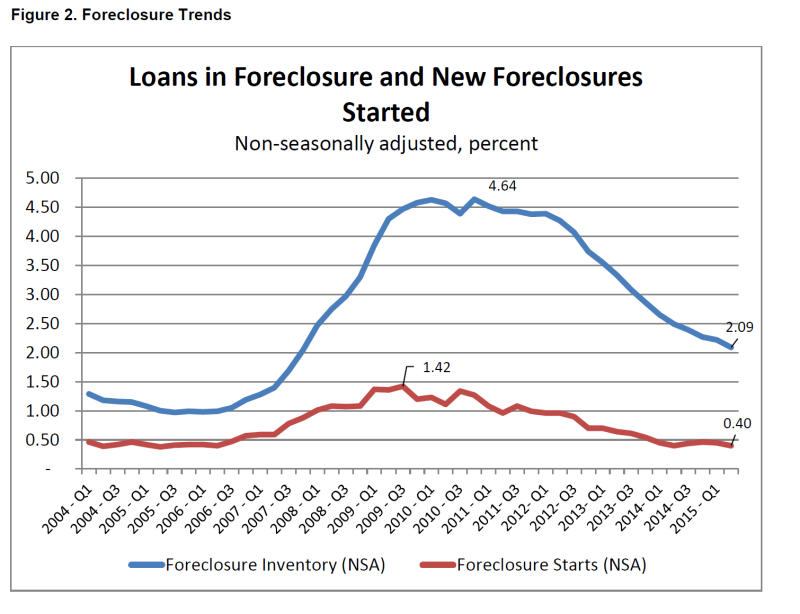 Marina Walsh, MBA's vice president of industry analysis, noted that the national delinquency picture is still skewered in regard to how the states handle this aspect of housing.
"While only 40 percent of loans serviced are in judicial states, these states account for a growing majority of loans in foreclosure," Walsh said. "For states where the judicial process is more frequently used, 3.41 percent of loans serviced were in the foreclosure process, compared to 1.15 percent in non-judicial states. States that utilize both judicial and non-judicial foreclosure processes had a foreclosure inventory rate closer that of the non-judicial states at 1.36 percent."