Mortgage Applications Down, Housing Apprehension Up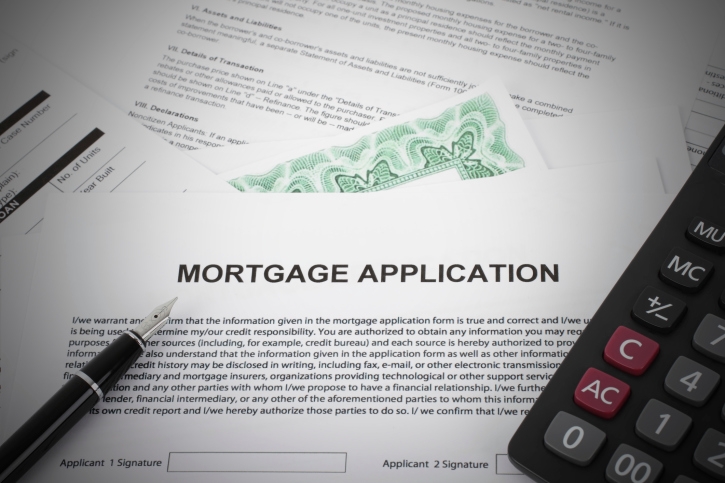 Fewer people are applying for mortgages but more people are agitated about the future of the housing market, according to the latest industry data reports.
The Mortgage Bankers Association's (MBA) latest Builder Application Survey (BAS) found a six percent month-over-month drop in mortgage applications for new home purchases in August. Although there were fewer applications, the average loan of new homes increased from $316,995 in July to $317,035 in August.
Conventional loans were still the most sought-after mortgage, taking up more than two-thirds of total applications. FHA loans comprised 19 percent, followed by VA loans at 11.6 percent of market share and RHS/USDA loans at 0.9 percent.
Lynn Fisher, MBA's vice president of research and economics, framed the new data in a seasonal light and a positive positioning.
"As the summer winds down, mortgage applications for new homes saw a seasonally-driven decrease in August," said Fisher. "However, applications for new homes were still up 19 percent relative to the same month last year, which is consistent with what we've seen so far in 2015."
Still, not everyone felt warm and sunny about housing. The latest Zillow Housing Confidence Index (ZHCI) polled 10,000 renters and homeowners about the current and potential future state of their local real estate markets, and the numbers were rather gloomy: the percentage of renters who say they plan to buy a home in the next year fell from 12.1 percent to 11.4 percent in the first half of this year, with a smaller percentage stating that it was a good time to buy. The percentage of those surveyed who believe people who have recently bought a home will be better off in 10 years fell from 61 percent to 59 percent.
"The housing market is slowing down, and Americans' confidence in the future of the market is understandably fading a bit, too," said Zillow Chief Economist Svenja Gudell. "Despite remaining quite confident overall, homeowners are less confident about the future than they are about the present. Seeing still stronger than normal home value appreciation in markets like San Francisco and Seattle might remind them of the last housing bubble."
However, Gudell insisted there was as silver lining in this dark data cloud.
"But the good news is things are leveling off with no crash in sight," she added. "If incomes rise to keep up with home values—and that's a big if—people can count on homeownership in their future, even in hot markets."
Nonetheless, Terry Loebs, founder of Pulsenomics LLC—the company that developed and maintained the ZHCI data—found it difficult to accentuate the positive.
"In the eyes of households in 17 of the 20 metropolitan areas, the outlook for the real estate market has dimmed since the start of 2015," said Loebs. "Given the outsized impact of homeownership on personal balance sheets and its interplay with the aspirations and behaviors of U.S. consumers, if this downshift in housing expectations persists, it could portend a longer period of price deceleration and more sluggish consumer spending than some people are currently expecting."
At the moment, there are no drastic changes—at least in terms of the average fixed mortgage rates. Freddie Mac's Primary Mortgage Market Survey (PMMS) reported the 30-year fixed-rate mortgage (FRM) averaged 3.90 percent with an average 0.6 point for the week ending September 10, a scant bump up from last week when it averaged 3.89 percent; the 30-year FRM averaged 4.12 percent last year at this time. The 15-year FRM this week averaged 3.10 percent with an average 0.7 point, a miniscule increase up from last week when it averaged 3.09 percent; a year ago at this time, the 15-year FRM averaged 3.26 percent.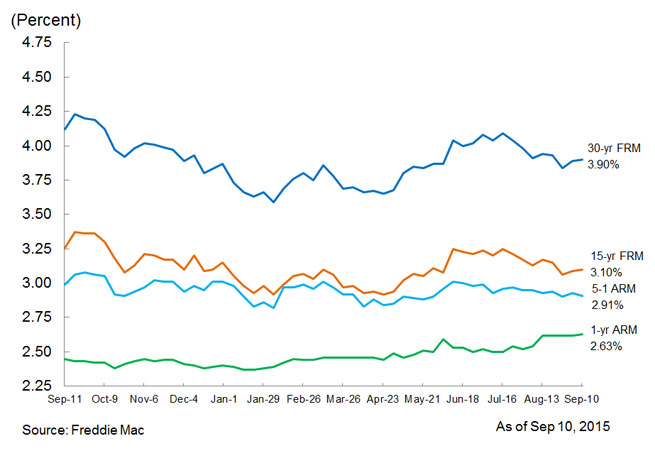 The five-year Treasury-indexed hybrid adjustable-rate mortgage (ARM) averaged 2.91 percent this week with an average 0.5 point, down from last week when it averaged 2.93 percent; a year ago, the five-year ARM averaged 2.99 percent. And the one-year Treasury-indexed ARM averaged 2.63 percent this week with an average 0.3 point, up from last week when it averaged 2.62 percent; this product averaged 2.45 percent last year at this time.
Sean Becketti, chief economist at Freddie Mac, noted the Labor Day-shortened week and the mixed signals from the labor market—a drop in the unemployment rate but below-expectation job creation levels and inert wage growth—as contributing to the stagnant rate scene.