New Housing Data: Something Appealing, Something Appalling
For those who see the proverbial glass as being half-full, today's new housing data offered a reason for cheers And for those that see the glass as being half-empty, there are new reasons to drink away one's sorrow.
On the good news front: RealtyTrac found that homeowners who sold during the third quarter realized an average price gain of $40,658 (17 percent) from the purchase price of their property–the highest average price gain for home sellers since the third quarter of 2007.
According to RealtyTrac, the average sale price of single family homes and condos nationwide during the third quarter was $263,976, a slight 0.2 percent rise from the previous quarter and a 2.4 percent jump from the third quarter of 2014. This marked the slowest year-over-year price appreciation in any quarter since the first quarter of 2012.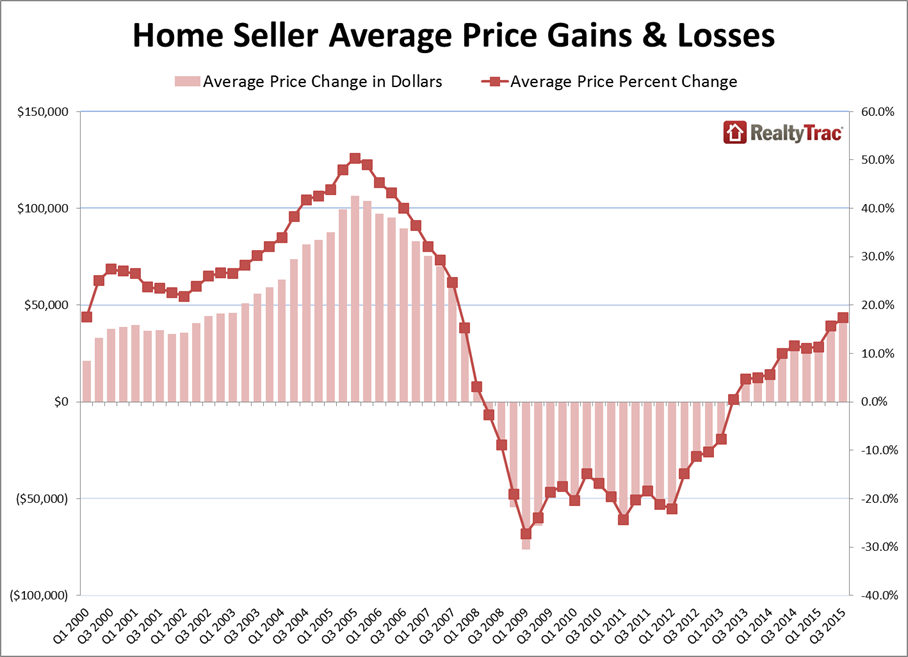 RealtyTrac also found 2,487,664 existing single family and condo sales went through during the first three quarters of this year, which the highest level for the first nine months of a year since 2006.
"An increasing number of homeowners in 2015 have been cashing out the home equity they've gained during the housing recovery of the past three years," said Daren Blomquist, vice president at RealtyTrac. "That may be a good decision because the data points to a plateauing market going forward. Home price appreciation is slowing, a trend that will continue if interest rates rise in the coming months as expected. Meanwhile the threat of rising interest rates combined with lowered premiums for buyers using FHA loans is spurring more demand."
During the third quarter, 27.8 percent of single family homes and condos were all-cash sales, which is down from 28.7 percent in the previous quarter and down from 29 percent a year ago. And 1.9 percent of all sales involved institutional investors, which is up from 1.6 percent in the previous quarter but down from five percent a year ago.
On the distressed housing side, 8.1 percent of all third quarter sales involved residential property that was actively in the foreclosure process–the lowest level since RealtyTrac began following this figure in January 2000.
There was also encouraging news in the Mortgage Credit Availability Index (MCAI) report issued by the Mortgage Bankers Association (MBA). October's MCAI rose 1.5 percent to 128.4, while increases were recorded in all four component indices: the Conforming MCAI was up 2.7 percent over the month, followed by the Government MCAI (up 1.9 percent), the Conventional MCAI (up 0.8 percent), and Jumbo MCAI (up 0.5 percent).
"Credit availability increased in October mainly as a result of new conforming loan programs, many of which were affordable housing programs which have lower down payment requirements," said Mike Fratantoni, MBA's chief economist.
Also on the rise were average fixed mortgage rates, according to Freddie Mac's latest Primary Mortgage Market Survey. Freddie Mac found the 30-year fixed-rate mortgage (FRM) averaged 3.87 percent with an average 0.6 point for the week ending Nov. 5, up from last week's 3.76 percent but still below last year's 4.02 percent. The 15-year FRM this week averaged 3.09 percent with an average 0.6 point, up from last week when it averaged 2.98 percent but below last year's 3.21 percent.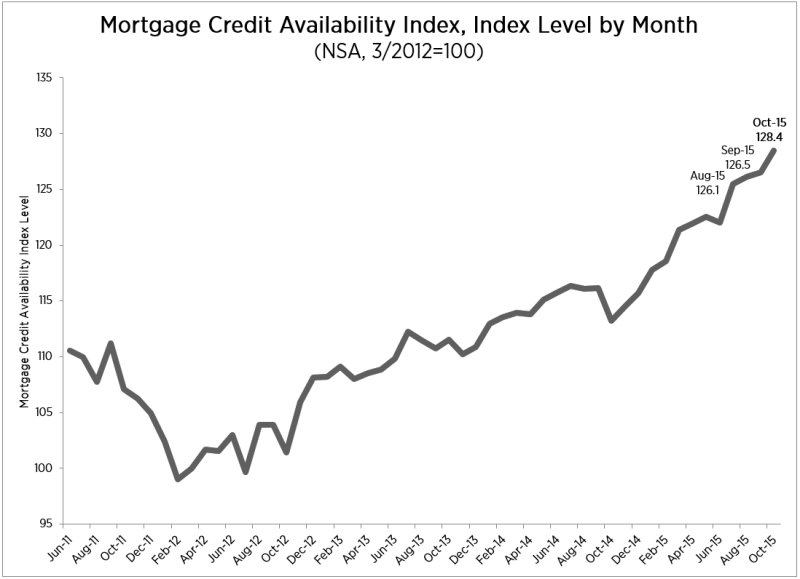 The five-year Treasury-indexed hybrid adjustable-rate mortgage (ARM) averaged 2.96 percent this week with an average 0.4 point, up from last week when it averaged 2.89 percent. A year ago, the five-year ARM averaged 2.97 percent. And the one-year Treasury-indexed ARM averaged 2.62 percent this week with an average 0.2 point, up from 2.54 percent last week. At this time last year, the one-year ARM averaged 2.45 percent.
"Recent commentary suggests interest rates may rise in the near future," said Sean Becketti, chief economist at Freddie Mac. "Janet Yellen referred to a December rate hike as a 'live possibility' if incoming information supports it. The October jobs report to be released this Friday will be one crucial factor influencing the FOMC's decision."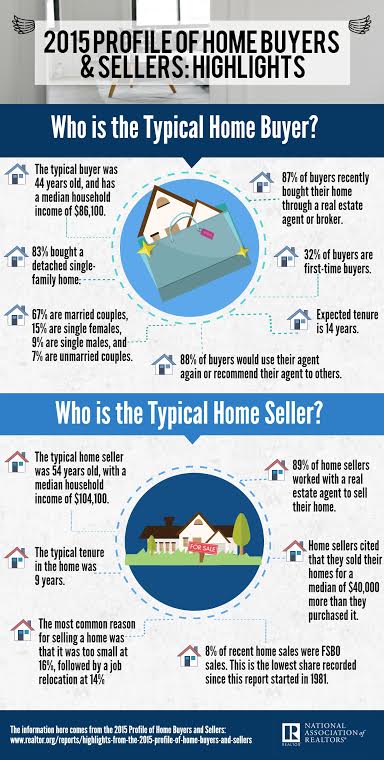 But not all of the news is pleasant. On the home purchasing front, first-time homebuyers continue to be an elusive commodity. New data from the National Association of Realtors (NAR) has determined that the share of first-time buyers declined to 32 percent this year, down one percentage point from a year ago. This marks the third consecutive year of that the number of first-time buyers is shrinking, and it also marks the second-lowest share NAR began tracking these numbers in 1981 and the lowest since 1987's 30 percent reading.
NAR also reported that the median age of first-time buyers was 31, unchanged for the last three years, and the median income was $69,400, up from last year's $68,300.
"Increasing rents and home prices are impeding their ability to save for a down payment, there's scarce inventory for new and existing-homes in their price range, and it's still too difficult for some to get a mortgage," said NAR Chief Economist Lawrence Yun. "First-time buyers reported that debt (all forms) delayed saving for a down payment for a median of three years, and among the 25 percent who said saving was the most difficult task, a majority (58 percent) said student loans delayed saving. With a median amount of student loan debt for all buyers at $25,000, it's likely some younger households with even higher levels of debt can't save for an adequate down payment or have decided to delay buying until their debt is at more comfortable levels." 
The typical first-time buyer purchased a 1,620-square-foot home (up from 1,570 in 2014) costing $170,000; in comparison, the typical repeat buyer was 53 years old and earned $98,700 ($95,000 in 2014). On the selling side, NAR found that the typical seller over the past year was married, 54-years-old, had a household income of $104,100 and owned the home for nine years prior to selling.
Home purchasing was also the focus of a new Zillow analysis, which found an increase in the number of applicants getting approved, especially among middle-income black and Hispanic loan applicants. But disparities still exist between White and non-White homebuyers.
Zillow found that 11.2 percent of all home loan applicants were denied in 2014, but 23.5 percent of all African-American applicants were rejected. Last year, African-American made up 12 percent of the U.S. population and Hispanics made up 17.3 percent, but were only three percent and 6.1 percent of conventional loan applicants, respectively. African-American made up only 2.5 percent of those approved for a conventional loan in 2014 and Hispanics were 5.5 percent.
But Whites, who were 62 percent of the population, made up 69.5 percent of conventional loan applicants and 71.9 percent of those approved for conventional loans.