Going Up: Home Prices, Mortgage Rates and Foreclosure Starts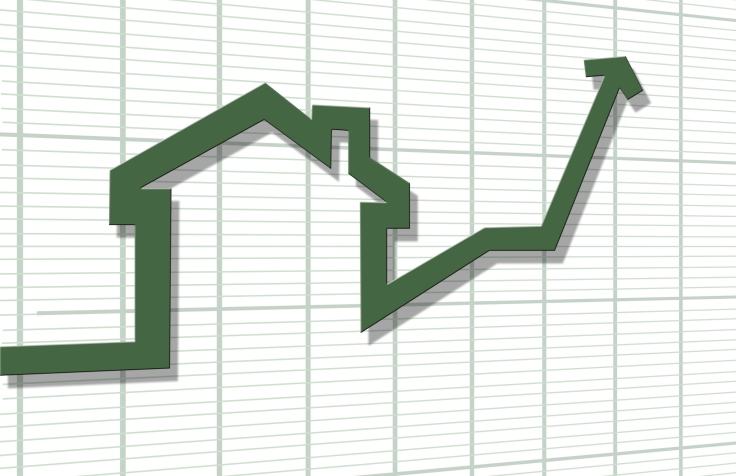 The median existing single-family home price increased on a year-over-year basis in 154 out of 178 metropolitan statistical areas in the third quarter, according to new data from the National Association of Realtors (NAR). Twenty-four metro areas recorded lower median prices from a year earlier.
During the third quarter, 21 metro areas experienced double-digit increases, a decline from the 34 metro areas in the second quarter but an increase from 16 metro areas one year earlier. The national median existing single-family home price in the third quarter was $229,000, up 5.5 percent from $217,100 one year earlier.
NAR also determined that total existing-home sales, including single family and condo, increased 3.4 percent to a seasonally adjusted annual rate of 5.48 million in the third quarter from 5.30 million in the second quarter. These sales are also 8.3 percent higher than the 5.06 million level recorded in the third quarter of 2014.
Lawrence Yun, NAR chief economist, saw good news and bad news in this data.
"The demand for buying picked up speed in many metro areas during the summer as more households entered the market, encouraged by favorable mortgage rates and improving local economies," said Yun. "While price growth still teetered near or above unhealthy levels in some markets, the good news is that there was some moderation despite the stronger pace of sales. Unfortunately, the lack of any meaningful gains in housing supply pushed prices in some areas above what some potential buyers—especially first-time buyers—are able to afford."
Also on the rise were mortgage rates, according to the latest Freddie Mac data. The 30-year fixed-rate mortgage averaged 3.98 percent in the week ending Nov. 12, up from 3.87 percent last week, while the 15-year fixed-rate mortgage averaged 3.20 percent, up last week's from 3.09 percent. The five-year Treasury-indexed hybrid adjustable-rate mortgage averaged 3.03 percent, higher than last week's 2.96 percent, and the one-year Treasury-indexed ARM averaged 2.65 percent, up slightly from 2.62 percent a week ago.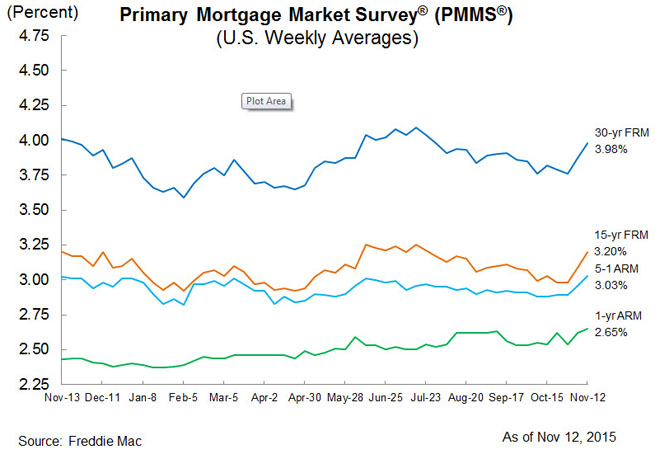 The new Freddie Mac data marked the second consecutive week of rising rates. Sean Becketti, chief economist at Freddie Mac, commented that the 30-year fixed-rate mortgage was now at its highest level since July.
While home prices and interest rates were on the rise, so were foreclosure starts. RealtyTrac's latest U.S. Foreclosure Market Report found that foreclosure filings were reported on 115,134 properties last month, up six percent from September. This month-over-month spike was rooted in a 12 percent monthly jump in foreclosure starts, with 48,605 properties starting the foreclosure process in October. This increase was the largest month-over-month spike since in four years.
October foreclosure starts increased from the previous month in 34 states, most notably in Michigan (up 37 percent), Washington (up 34 percent) and Maryland (up 30 percent). Bank repossessions also increased annually in 36 states, most dramatically in New York (up 320 percent) and New Jersey (up 275 percent).
However, RealtyTrac quickly pointed out that foreclosure starts were down six percent on year-over-year basis, while foreclosure starts were down 14 percent from a year ago.
"We've seen a seasonal increase in foreclosure starts in October for the past five consecutive years, so it's not too surprising to see the monthly increase this October," said Daren Blomquist, vice president at RealtyTrac. "However, the 12 percent increase this October is more than double the average five percent monthly increase in the past five Octobers, and the even more dramatic monthly increases in some states is certainly a concern. The upward trend in foreclosure starts in those states in some cases could be an indication of fissures in economic fundamentals driving more distress and in other cases is more likely an indication of long-term delinquencies finally entering the foreclosure pipeline."