Whose CFPB Is It, Anyway ... Cordray-Hensarling Square-Off on Capitol Hill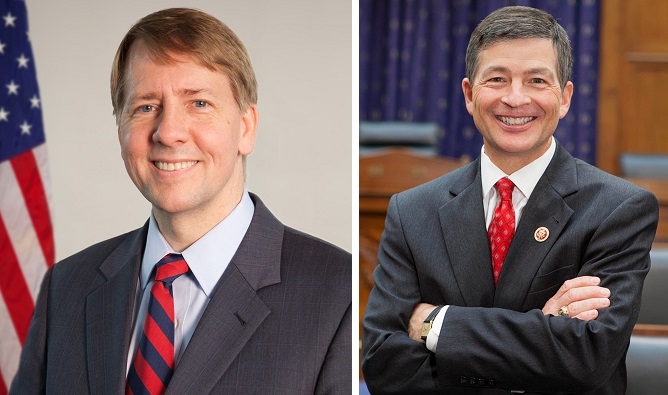 The appearance by Consumer Financial Protection Bureau (CFPB) Director Richard Cordray before the House Financial Services Committee for the agency's Semi-Annual Report to Congress gave the impression that there are two very different CFPBs operating today: Cordray's vision of an efficient and effective regulatory entity and a rival vision by Rep. Jeb Hensarling (R-TX), the committee's chairman, of an out-of-control bureaucracy that is creating more problems than solutions.
In remarks prepared for the committee hearing, Cordray cited a list of CFPB achievements to date.
"The Bureau has continued its efforts to listen and respond to consumers and industry, to be a resource for the American consumer, and to develop into a great institution worthy of the responsibilities conferred on it by Congress," Cordray said, pointing to the CFPB's Office of Consumer Response and its online Consumer Complaint Database as evidence that it is successfully pursuing its mission. He also highlighted the financial harvest culled from the agency's pursuit of companies that fell afoul of its rules.
"When federal consumer financial protection law is violated, the Bureau's Supervision, Enforcement, and Fair Lending Division is committed to holding the responsible parties accountable," Cordray continued. "In the six months covered by the most recent report, our supervisory actions resulted in financial institutions providing more than $95 million in redress to over 177,000 consumers. During that timeframe, the Bureau also announced orders through enforcement actions for approximately $5.8 billion in total relief for consumers who fell victim to various violations of consumer financial protection laws, along with over $153 million in civil money penalties."
Cordray's testimony did not overtly acknowledge criticism aimed at the CFPB, but he placed a proactive stress on two areas that have been sore spots for the agency. The first involved accusations of using aggressive enforcement as a regulatory tool, to which Cordray insisted that "reasonable regulations are essential for protecting consumers from harmful practices and ensuring that consumer financial markets function in a fair, transparent, and competitive manner." The second involved CFPB personnel practices, which have been the subject of discrimination complaints by some of the agency's employees. Cordray stated that the CFPB's Office of Minority and Women Inclusion was focused on "building a diverse and inclusive workforce that can foster broader and better thinking about how to approach markets."
Rep. Hensarling, however, presented a very different vision of today's CFPB—which he framed via a notable Founding Father quote.
"As Thomas Jefferson once warned, government agencies are sending 'swarms of officers to harass our people, and eat out their substance,'" he said in a statement issued ahead of the hearing. "Today, the poster child of Jefferson's lament is the CFPB. Its director … is neither elected nor accountable to the American people. Yet when it comes to consumer financial products, he is vested with the awesome power of the entire United States Congress. This is amazing, frightening and tragic."
Hensarling was particularly scathing in denouncing the CFPB's enforcement actions, especially in regard to mortgage companies.
"Already Mr. Cordray has decided who in America can receive a mortgage under his Qualified Mortgage rule, which when fully implemented will disqualify almost one-fourth of all Americans who qualified for a home mortgage just a few years ago," he continued. "Already Mr. Cordray has decided that countless Americans should pay more for auto loans based upon junk science and a dubious legal theory of statistical unintentional discrimination. All the while his agency reels from countless accusations of actual discrimination. Apologists for the Bureau, along with Mr. Cordray, frequently cite the tens of millions of dollars of fines they have imposed as proof they are protecting consumers. But the Bureau operates as legislature cop on the beat, prosecutor, judge and jury all rolled into one. Fines imposed in such an abusive structure tell us nothing about justice or consumer welfare. Nothing."