More Declines in Distressed Home Sales, Home Equity Delinquencies
Distressed sales accounted for 11.2 percent of total home sales in January, a 0.6 percent drop from the previous month and a 3.3 fall from one year earlier, according to new data from CoreLogic.
Within the distressed category, REO sales accounted for 7.8 percent—the lowest level for a January data analysis in nine years—and short sales accounted for 3.4 percent of total home sales. Forty-two states recorded lower year-over-year distressed sales shares in January, with Nevada's 5.1 percent drop registering the greatest percentage decline. North Dakota had the lowest distressed sale share with 2.5, while Maryland and Connecticut tied with the highest at 19.1 percent. Maryland's Baltimore-Columbia-Towson market had the greatest share of metro area distressed sales at 20 percent, just ahead of Illinois' Chicago-Naperville-Arlington Heights metro area and Florida's Orlando-Kissimmee-Sanford market with 19.8 percent each.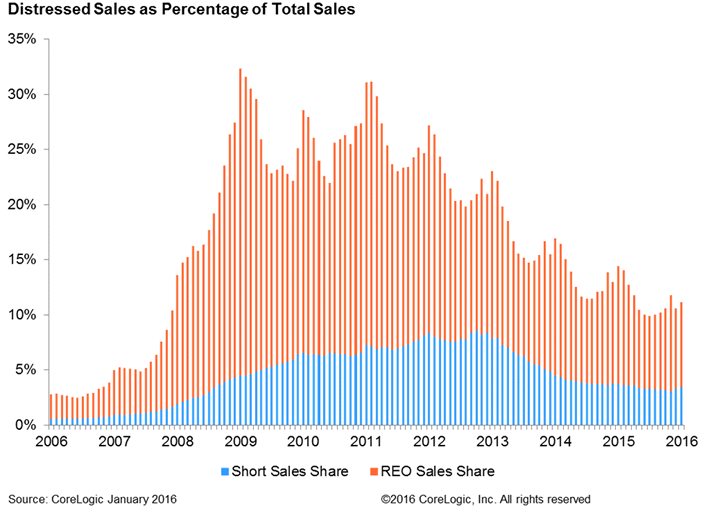 Separately, the latest Consumer Credit Delinquency Bulletin from the American Bankers Association (ABA) has found downturns with home equity loan delinquencies—a 23 basis points (bps) tumble to 2.68 percent of all accounts—and with home equity line delinquencies—a 13 bps to 1.18 percent of all accounts. However, property improvement loan delinquencies rose five bps to 0.92 percent of all accounts.
"It's been a long, rocky road, but home equity delinquencies have finally worked their way back to historical norms," said James Chessen, ABA's chief economist. "The strong and consistent rise in home prices over the last three years has restored equity, which makes keeping loans current even more of a top priority for homeowners. With rising home equity and shrinking delinquencies becoming the status quo, banks are more willing to extend new home equity loans and lines to qualified borrowers."