NewDay USA Foundation Presents Scholarship to Freshman Cadet
NewDay USA has welcomed Valley Forge Military Academy's Freshman Cadet Christian Rachiele to the list of students who are NewDay USA scholars. The 13-year-old Cadet Rachiele was awarded a four-year academic scholarship, presented through the NewDay USA Foundation's scholarship program, during a ceremony at Valley Forge Military Academy and College (VFMAC). Pictured above is Rear Admiral Tom Lynch, (USN Ret.), executive chairman of NewDay USA; Christian Rachiele and Amy Rachiele.
"We congratulate Christian and salute his determination, intellectual curiosity, passion and desire to attend the prestigious Valley Forge Military Academy," said Rear Admiral Tom Lynch, (USN Ret.), executive chairman of NewDay USA. "The NewDay USA Foundation scholarship program provides an amazing opportunity for children whose parents or guardians have made great sacrifices for our country. By helping to ease the burden of tuition, we honor the service and the memory of Christian's father Major Timothy Rachiele."
During the presentation ceremony at VFMAC's Alumni Museum in Mellon Hall, Cadet Rachiele, received congratulations from the school's other current NewDay USA scholars, Cadet Tyler McCrae, Cadet Quinten Bushyager and Cadet Braeden Bushyager. Rear Admiral Lynch presented the scholarship on behalf of NewDay USA Foundation, joined by NewDay USA Board of Advisors members Jerry Johnson, Regina Lowrie and Walt Rolph. Gary Morrison, vice president of scholarship development at NewDayUSA, was also on hand.
"Valley Forge is thrilled that Cadet Christian Rachiele will join Cadets Braeden Bushyager, Quinten Bushyager and Tyler McCrae as part of the NewDay USA scholars here at Valley Forge Military Academy and College," said VFMAC President Colonel John C. Church Jr. "Like NewDay, we at Valley Forge value leadership and we agree that leadership truly sets us apart at the Forge in service to nation. Scholars are chosen based on performance and the military service of a parent. We are so pleased that NewDay can help provide this scholarship which is an important foundation for our cadets."
The NewDay USA Foundation provides scholarships to children of fallen or severely wounded veterans, and those whose families have endured multiple, extended deployments. Since the inception of these scholarships in 2013, the Foundation has committed approximately $1.2 million in scholarship funds to children attending select military high schools.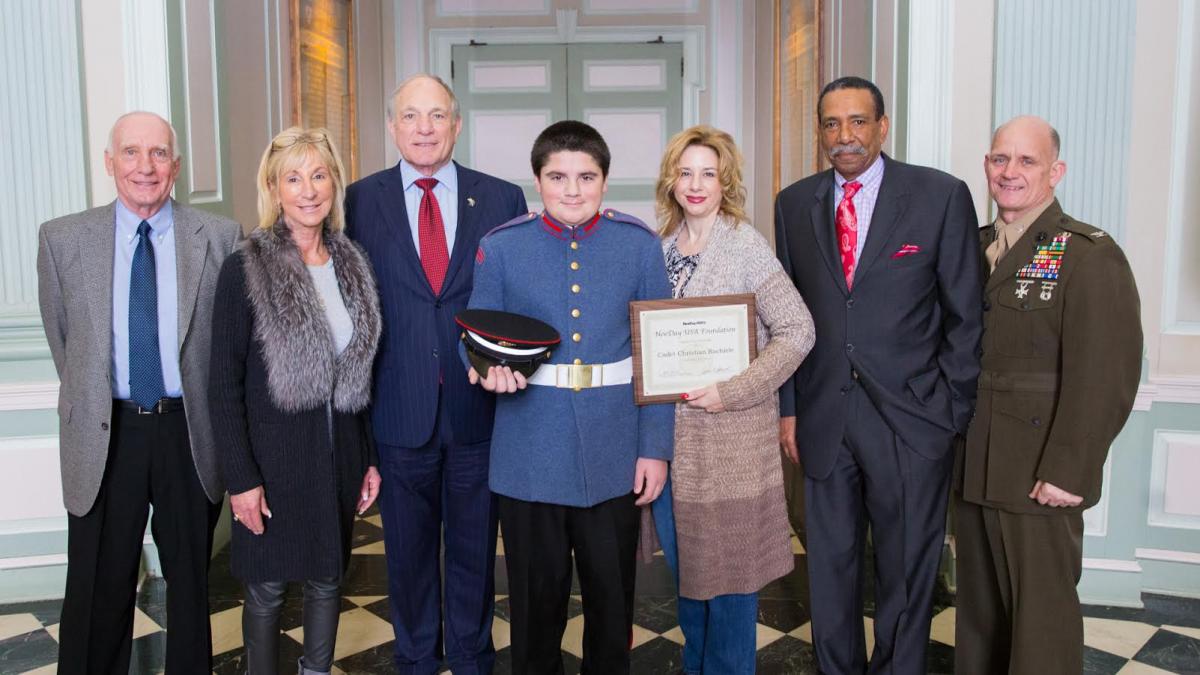 Walt Rolf; Regina Lowrie; Admiral Tom Lynch; Christian Rachiele; Amy Rachiele; Jerry Johnson; and Colonel Church, president of Valley Forge Military Academy
Subscribe to the nmp Daily