Milwaukee Mayor Recognizes Ocwen's Efforts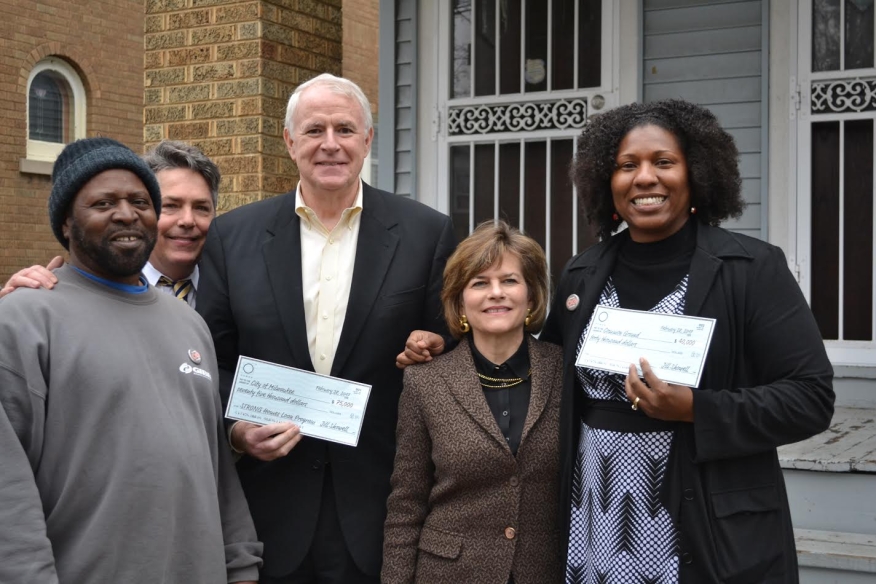 Milwaukee Mayor Tom Barrett was recently joined by representatives from Ocwen Financial to highlight the 2016 results of the partnership between the City and Ocwen. Mayor Barrett, Alderman Michael Murphy and Ocwen announced the partnership at the beginning of last year to provide substantial assistance designed to help Milwaukee homeowners who face economic challenges by administering loan modifications as well as low interest loans to help finance critical repairs to homes.
In 2016, more than 260 loans were modified, averaging $225 in monthly payment savings for Ocwen borrowers in Milwaukee. In addition, there was a $6 million total principal reduction at the end of 2016.
"I'm pleased Ocwen continues to share my commitment in doing everything we can to keep Milwaukee homeowners in their homes," Mayor Barrett said. "Residents who own their homes add value and stability to Milwaukee neighborhoods. By fostering public-private partnerships, we are strengthening neighborhoods and enhancing the quality of life for Milwaukee residents."
With Ocwen's $75,000 contribution to the Mayor's Strong Home Loan Fund, the City is able to make loans to homeowners for essential home improvements. More than $86,000 was given by Ocwen to support Milwaukee non-profits and seven properties were donated.
"Ocwen is pleased to be working closely with the City of Milwaukee and local non-profit organizations who have come together to help stabilize neighborhoods and keep families in their homes," said Jill Showell, senior vice president of Government and Community Relations. "Ocwen commends Mayor Barrett and Alderman Murphy for their focus on addressing the local challenges and for working constructively with Ocwen to help bring hope and stability to this great city. Through a combination of financial support, property donations and direct outreach to borrowers, Ocwen is helping to make a difference in Milwaukee, and we look forward to continuing our collaboration."
On Feb. 28, the City received Ocwen's second financial contribution since the partnership's inception. With Ocwen's demonstrated commitment to the City, the second phase of the five-part plan for Milwaukee will continue and include the following elements:
►Ocwen will continue to enhance its efforts to reach struggling borrowers in Milwaukee by offering sustainable mortgage loan modification options. This assistance is helping qualified customers reduce mortgage payments and avoid foreclosure.
►Ocwen made a second $75,000 contribution (providing $225,000 over three years through 2018) to the City of Milwaukee to support the Strong Homes Loan Program.
►Working with community partners and the City, Ocwen will conduct three more face-to-face customer outreach events in 2017 in Milwaukee neighborhoods to meet with and help Ocwen customers struggling with mortgage payments.
►To assist with community revitalization efforts, Ocwen will continue to work with local non-profits to identify properties for donation, renovation and return to owner-occupancy.
►To further enhance its efforts in the city, Ocwen is donating $200,000 over three years to various Milwaukee-based non-profit community groups to help struggling borrowers and to reduce city blight, donating $200,000 over three years Alderman Michael J. Murphy, who has worked consistently for years to bring banks and mortgage lenders to the table to help prevent foreclosures and to stabilize city neighborhoods, said he is pleased with the assistance provided by Ocwen.
 
"We need an all-hands approach in strengthening neighborhoods and helping homeowners avoid foreclosure," Alderman Murphy said. "This partnership and assistance from Ocwen will help many residents stay in their homes and keep our valuable housing stock stable and viable."
The five point plan is the product of numerous discussions among the Mayor, Common Council President and Ocwen since July 2015. In addition to the plan, Ocwen and City officials have worked together on targeted outreach to delinquent Ocwen borrowers and have increased compliance with City registration ordinances to mitigate issues with vacant and "zombie" properties.