NCRA's 24th Annual Conference Review
NCRA's 24th Annual Conference is now in the history books, leaving Texas-sized memories from our visit to San Antonio. This year garnered more than 130 credit reporting professionals representing more than half of the mortgage credit reporting industry and the nation's leading resident screening companies.
The conference kickoff featured a welcome reception on the 22nd floor of the Hilton Palacio del Rio, the same night as the World Series Game 7 in which the Chicago Cubs ended their 108-year championship drought. As a 21-year Cubs season ticket holder, I still have a hard time believing it finally happened and can't write about it enough! After the party, the next day we opened the Conference with the annual changing of the association's officers. Thank you to 2016 President Bill Bower of Contemporary Information Corporation in California for a great year of leadership! Incoming NCRA President Julie Wink of DataFacts in Tennessee and Vice President Paul Wohkittle of CIS in Maryland, will provide a smooth transition of NCRA's leadership.
Master of Ceremonies Sonny Melendez made sure the highlights of the agenda were kept on track starting with the keynote address by Davy Tyurski, author of Profit InnerCircle, sponsored by TransUnion. Davy is America's CPO, chief profit officer, and delivered an informational motivational address that was well-focused on the service industry. Speaking of TransUnion, Steve Hamby and his team, along with David Proctor and the Experian team, delivered information packed sessions about developments at each of their respective national credit reporting agencies.
As usual, the federal government was well-represented again this year at NCRA. Five agencies (HUD, CFPB, FTC, IRS and the SSA) provided eight speakers this year. The CFPB's Jonah Kaplan and FTC's Robert Schoshinski spoke to the group on a variety of issues as the primary regulators for our industry. The IRS's David Tyree and the SSA's Curtis Miller (via Webinar with several other SSA employees) each discussed access to critical data from their respective agencies that the mortgage industry needs to close loans. NAMB's Olga Kucerak, a San Antonio native and nationally recognized lender, provided lender insights into that session, along with NCRA Legal Counsel Christi Lawson.
The final and most talked about session with the federal government was led by Bryan Greene, HUD's Deputy Assistant Secretary of Fair Housing, regarding the changes to HUD's perspective on using criminal records in rental housing decisions. HUD requires background checks with criminal records for access to housing authority leases, while the fair housing side of HUD also looks at the use of background checks as potentially discriminatory when considering the Supreme Court decision on disparate impact. After opening comments from Bryan, a panel of industry and consumer advocates spoke passionately about the conflict created by trying to find the critical balance in serving the conflicting needs of safe housing and fair access to housing when looking at criminal records. The panel included Marie Clair Tran-Leung from the Shriver Center for Economic Justice, Tracy McCracken from the National Community Reinvestment Coalition, Bill Bower from Contemporary Information Corporation, Michael Saltz of Jacobsen, Russell, Saltz, Nassim & De La Torre, and Gwen Volk of INFOCUS Inc. The session was so passionate and intriguing, we shortened lunch to allow it to continue as no one wanted the debate to conclude.
And of course we cannot forget our attorneys, in addition to Mr. Saltz from the HUD session, NCRA's Legal Committee Chairperson Christi Lawson of Foley & Lardner spoke to the group about the various federal and state law changes that impact credit reporting. NCRA was thrilled to also have CoreLogic's VP Deputy Chief Litigation Counsel Thomas Garber participating in the sessions. These experienced litigators provided incredible insight into the troubled litigation waters we currently navigate.
Robert Tennessen provided insights into the activities of the Uniform Law Commission, who are working on standardizing the criminal records variations across the states to assure a more consistent records evaluation. With the election looming just days away, Maureen Thompson of the Hastings Group in Arlington Va., and NCRA lobbyist, provided thoughts about the election and either White House; Clinton II or Trump. We all now know how that turned out …
NCRA introduced new strategic alliance partners and our consumer education video series in San Antonio. The education and compliance committee went to Times Square this summer and started recording a "Man on the Street" format credit education video series. These videos being produced by the Mortgage News Network will be free from any sales hooks, providing basic consumer credit information. Dan Lier, a very popular keynote speaker from NCRA's 22nd Annual Conference in Palm Springs introduced his Sales Mastery and Peak Performance program that NCRA members can use to train their staffs.
For fun, the feature event for networking and entertainment had to involve BBQ in Texas! Mesquite smoke, the Chris Story Band, armadillo races, and photos atop a 2,000 lb. live Texas longhorn were just part of the evening events at the Rio Cibolo Ranch sponsored Meridian Link. You need a little R&R to break up two long days of educational sessions and a little Texas hospitality was the perfect way to mix it up. Friday's fun continued with the annual awards lunch which featured CreditXpert's Peter Fitton receiving the Directors' Award and CIS's Angie Jenkins receiving the President Award. Both of these NCRA members served their company, the association, and the credit reporting industry with distinction and outstanding service in 2016. Next year will be a milestone event, NCRA's 25th Anniversary Conference the first week of November in Baltimore's Inner Harbor. Stay tuned for details … 
---
Terry W. Clemans is executive director of the National Consumer Reporting Association (NCRA). He may be reached by phone at (630) 539-1525 or e-mail

[email protected]

.
---
 This article originally appeared in the January 2017 print edition of National Mortgage Professional Magazine.
---
NCRA Incoming President Julie Wink, Past President Bill Bower and Executive Director Terry Clemans
CoreLogic's VP Deputy Chief Litigation Counsel Thomas Garber with Michael Saltz of Jacobsen, Russell, Saltz, Nassim & De La Torre
Bryan Greene, HUD's Deputy Assistant Secretary of Fair Housing, addresses attendees
Steve Hamby of TransUnion keeps attendees up to date on the latest at the credit reporting agencies
The informative HUD Panel Discussion during NCRA's Annual Conference
Olga Kucerak, secretary of NAMB—The Association of Mortgage Professionals, was on hand for the armadillo races
NCRA Legal Counsel Christi Lawson provides a legal update to Conference attendees
Gwen Volk of INFOCUS Inc. during the panel discussion
The FTC's Robert Schoshinski spoke to the group on a variety of issues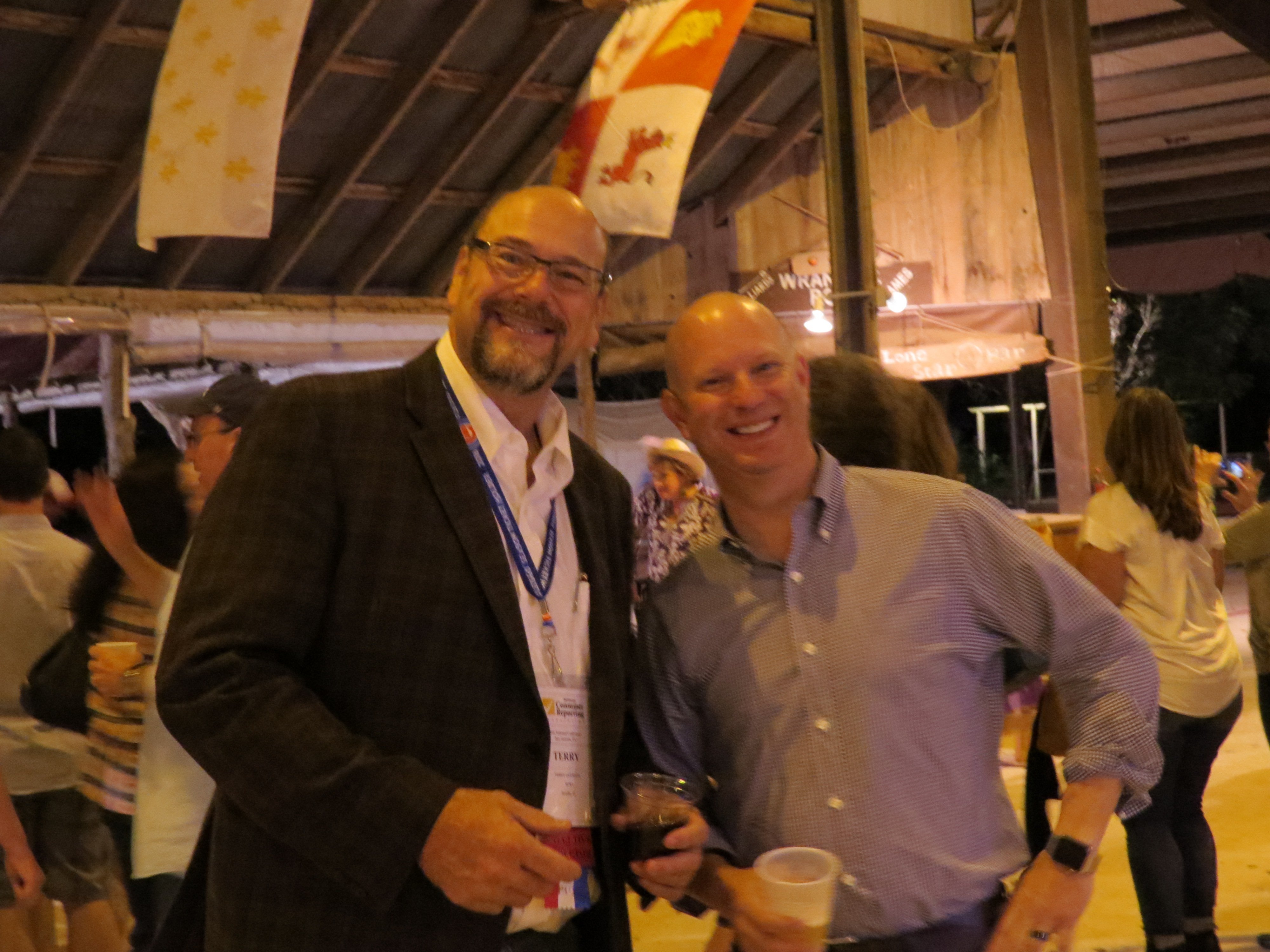 NCRA Executive Director Terry Clemans with Attorney Michael Saltz
A great time was had by all, as attendees pause for a photo with a Texas Longhorn
Jonah Kaplan of the CFPB shed some light on the inner workings of the Bureau
Chris Story Band entertained throughout the evening at the Rio Cibolo Ranch at the NCRA's Texas BBQ
Sonny Melendrez served as emcee for the NCRA's Annual Conference
---