Waterstone Mortgage Names Three New Southeast RVPs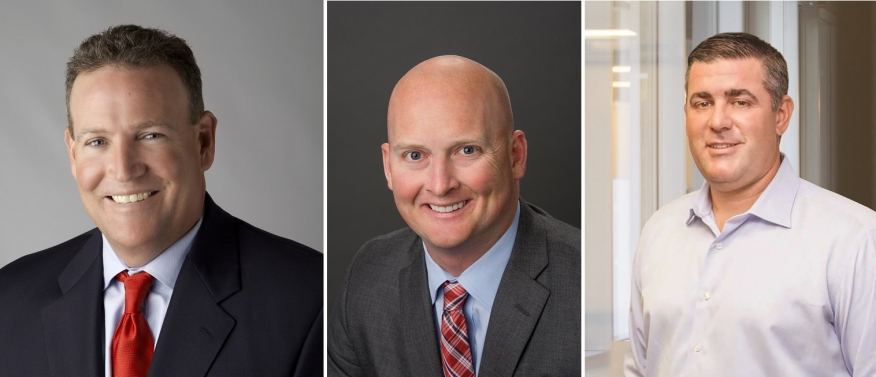 Waterstone Mortgage Corporation
has named David Holbrook, Dustin Owen and Michael Smalley as Regional Vice Presidents for the southeastern area of the nation.

"We are proud and honored to name David, Dustin and Mike as Regional Vice Presidents," said Waterstone Mortgage President and Chief Executive Officer Eric Egenhoefer "They have shown tremendous growth, leadership and achievement during their time at Waterstone Mortgage. Under their guidance, our business in the Southeast has significantly increased, as we continue to serve more homebuyers in this area of the nation."
Holbrook, Owen and Smalley had previously served as co-managers for the Waterstone Mortgage Winter Park region for 10 years, which includes offices in Clearwater, Jupiter, Fort Myers, Fort Walton Beach, Lynn Haven, Niceville, Ocala, Port Orange, Tallahassee and Winter Park, Fla.
Owen joined Waterstone Mortgage in 2008. For the past six years, his team has earned the Waterstone Mortgage President's Club achievement, ranking in the top group of Loan Originators in the company.
Holbrook also joined the company in 2008, and his expertise and knowledge has been instrumental in the success of the southeastern region.
Smalley is a nationally-recognized expert on mortgage planning and business plan implementation. He was recently featured as a speaker at the LoanToolbox Business Plan Conference in Las Vegas and the Mortgage Revolution Conference in Atlanta. Smalley also holds monthly training workshops for Realtors in the Orlando area. In addition, he has earned the Waterstone Mortgage President's Club–Diamond Level achievement (recognizing the top 10 Loan Originators in the company) for five consecutive years.
In 2017, the trio led their region to $580 million in annual loan origination volume, the highest amount for any Waterstone Mortgage region. They also anticipate opening two additional Florida offices by the end of 2018.