NewDay USA Honors Vets at Appreciation Day Event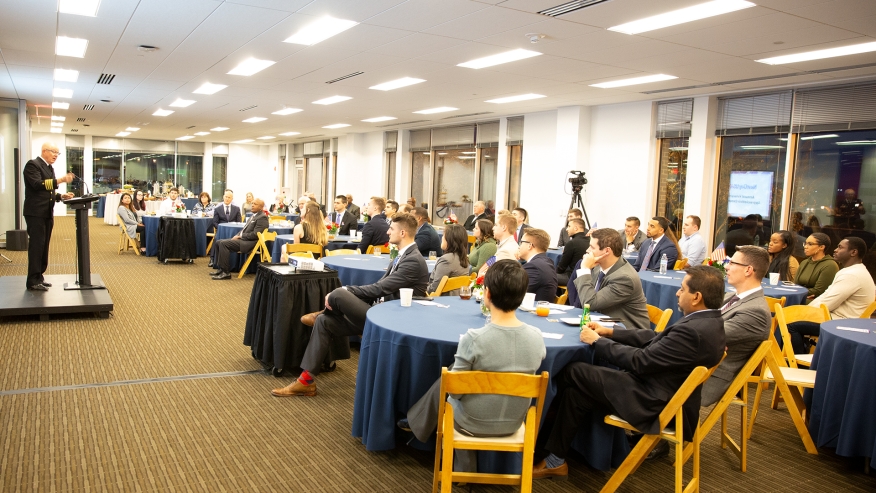 NewDay USA
recently held its fourth annual Veterans Appreciation Day to show its ongoing appreciation and commitment to military veterans at the company's Fulton, Md. headquarters.
NewDay USA executives and staff were on hand to honor area veterans with ceremonies and tributes during the event, which included remarks from NewDay USA Executive Chairman Rear Admiral Thomas C. Lynch (USN, Ret.) and CEO Rob Posner. Capt. Charlie Plumb, USNR, (Ret.), a former fighter pilot who spent six years as a prisoner of war in the "Hanoi Hilton" during the Vietnam War, delivered the event's keynote address.
"We are proud to host local veterans and their families as a tribute to the selfless sacrifices they have made on behalf of our country," said Rear Admiral Lynch. "From the very beginning, NewDay's goal has been to improve the lives of veterans, servicemembers and the communities where they live. Our Veterans Appreciation Day celebration has become one of our company's most anticipated events of the year."
Representatives from Gold Star Mothers, Gold Star Wives and Gold Star Siblings, groups who lost family members in military service; NewDay Five, members who have achieved the top enlisted rank in their respective branch of military service; and Baltimore Station, an innovative therapeutic residential treatment program supporting veterans and others who are transitioning through the cycle of poverty, addiction, and homelessness to self-sufficiency, were also on hand for the event.
Since 2013, NewDay USA has contributed five percent of its net income to countless military-friendly organizations, including the GWOT Memorial Foundation, USO, Military Bowl and an endowed collegiate scholarship for veterans. The NewDay USA Foundation has also awarded more than $2 million in 60 full, four-year scholarships to the children of fallen and severely disabled military veterans to attend JROTC military high schools across the nation. The company also out together care packages for the recipients of military school scholarships, as well as conducted a coat drive for The Baltimore Station.
"Our Veterans Appreciation Day is an opportunity for us to say thank you to past and present military servicemembers for the sacrifices they have made for our country," said Posner. "It is also fitting that our event takes place during Military Family Month. Military families deserve special recognition for their own sacrifices on behalf of family members who have given everything to protect the freedoms we all enjoy."