June's Single-Family Home Sales Up 13.8%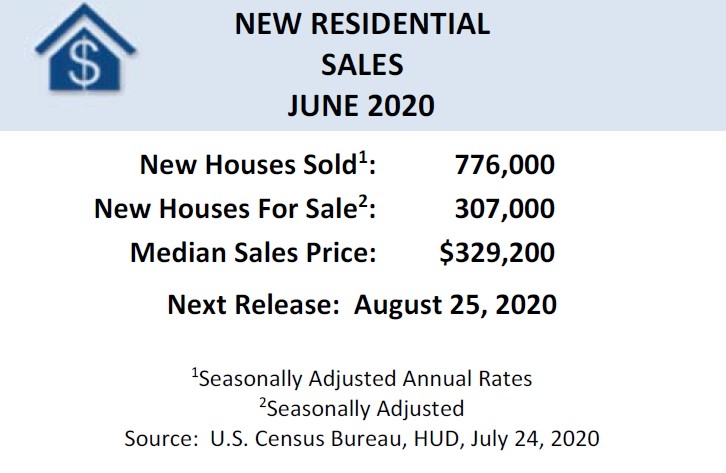 New single-family house sales showed another healthy increase, according to new federal figures released today. Homes in the $200,000 to $400,000 range also saw robust activity in June.
 
The Department of Housing and Urban Development and the U.S. Census Bureau jointly announced the following new residential sales statistics for June 2020:
 
New Home Sales: Sales of new single-family houses in June 2020 were at a seasonally adjusted annual rate of 776,000. This is 13.8% (±17.8%) above the revised May rate of 682,000 and is 6.9% (±13.7%) above the June 2019 estimate of 726,000. It's also the highest monthly total (pending possible revisions) in 2019 and 2020.
 
Sales Price: The median sales price of new houses sold in June 2020 was $329,200. The average sales price was $384,700. No historical data was supplied on housing prices compared with May 2020 or June 2019. Sales were up significantly in raw units sold between $200,000 and $400,000.
 
For Sale Inventory and Months' Supply: The seasonally adjusted estimate of new houses for sale at the end of June was 307,000. This represents a supply of 4.7 months at the current sales rate. The Census Bureau says months' supply is the ratio of houses for sale to houses sold. This statistic provides an indication of the size of the for-sale inventory in relation to the number of houses currently being sold. The months' supply indicates how long the current for-sale inventory would last given the current sales rate if no additional new houses were built.
 
HUD and the Census Bureau do add these caveats about the June housing stats: In interpreting changes in the statistics in this release, note that month-to-month changes in seasonally adjusted statistics often show movements which may be irregular. It may take three months to establish an underlying trend for building permit authorizations, six months for total starts, and six months for total completions.
The statistics are estimated from sample surveys and are subject to sampling variability as well as nonsampling error including bias and variance from response, nonreporting, and undercoverage.