Fowler Talks Social Media Marketing, Algorithms And More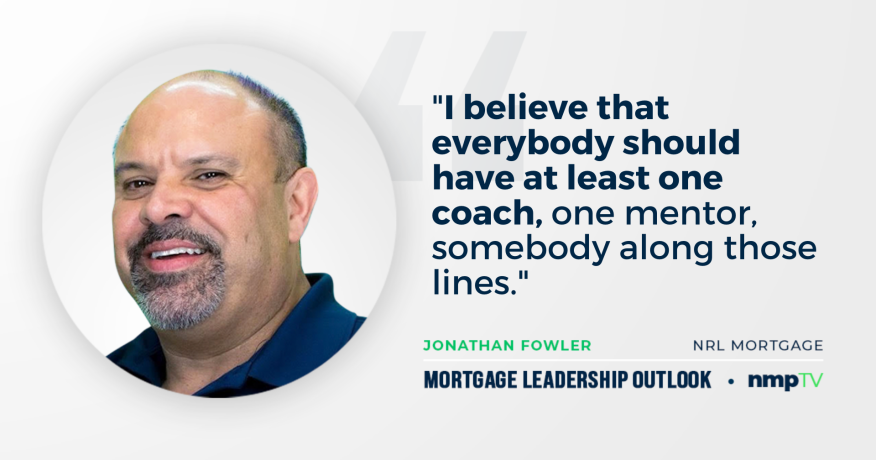 Wednesday's episode of Mortgage Leadership Outlook featured Jonathan Fowler, corporate development manager for NRL Mortgage. He joined series' host Andrew Berman, head of engagement and outreach for National Mortgage Professional magazine, as they discuss Fowler's years of experience in branch development, his advice on social media marketing and more.
Fowler is a pioneer in the branch development business building out one of the largest branch networks. He embraced social media and video to help tell his story and inspire his branch managers and their referral partners.
In his interview with Berman, Fowler shared important information regarding what will help propel your message to a wider audience on social media platforms like Facebook.
Highlights For The Interview
Fowler was 25 when he got into the mortgage industry. He worked as a loan officer after having a terrible experience while trying to finance his first home. Fowler said when he began learning about the mortgage business he was hooked.
His first loan was a referral from a friend. He told Berman that the borrowers tried to buy a home the big box way but it wasn't working out. Fowler only having knowledge that he gained from his class, was able to close the deal in 30 days.
Fowler managed 700 branches with 5,000 loan officers. He said it was busy and most of the time everyone was respectful and business-oriented.
Before the COVID-19 pandemic hit, Fowler was traveling the country conducting modern marketing courses. He inspired mortgage professionals to change their business and drive success.
"I believe that everybody should have at least one coach, one mentor, somebody along those lines."
Fowler said his first coach was the person who taught him about social media and how to use it to further his career and grow his business. He put the information into a package for those who are unable to afford premium classes.
"It's a number of things but it's a series of techniques," said Fowler when asked what some of the best advice is that has helped some of his students. "The first one is getting rid of the bad habits that you have now because nobody ever taught you how to truly use it. Then, knowing how to hack into the algorithm and figure out how they actually work and then staying on top of this because it's not a static thing."
Fowler said the more things that you do that people like, the more people Facebook will put you in front of. He revealed that Facebook does not like folks who add marketing or ads to their posts and will likely suppress those posts. Facebook prefers simple live videos. Fowler said live videos are number one when it comes to the Facebook algorithm.
"If you want to talk about something serious, which I would be careful with, talk about it during the daytime. We want to calm down, we want to be peaceful in the evening."
Fowler said during the beginning of the pandemic he already had a number of presentations scheduled. He was taking note of the trends that were happening including folks moving out of big cities and the week-after-week, record-low mortgage rates.
Fowler was forced to pivot his in-person classes to a digital format. However, he does have requests to do some in-person shows as folks become weary of the amount of digital content that exists right now.
Check out the full interview between Fowler and Berman below.