Tehrany Talks Scaling Your Mortgage Business And More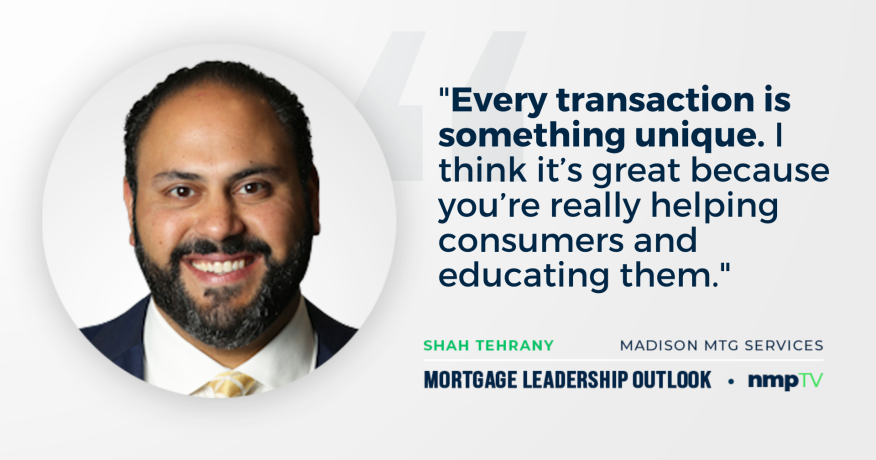 Wednesday's episode of Mortgage Leadership Outlook featured Madison Mortgage Services president and CEO Shah Tehrany. He joined series' host Andrew Berman, head of engagement and outreach for National Mortgage Professional magazine, as they discussed what it was like going from retail mortgage banker to mortgage broker, how his tech-focused mortgage company was ready for the shift to remote, how he runs the business as a chief technology officer, and the future of tech for small to mid-sized firms and more.
Tehrany, a seasoned mortgage professional, spent the last eight months as the head of Madison Mortgage Services. Prior to that, Tehrany spent years as a mortgage loan originator for Topdot Mortgage and Residential Home Funding Corp. He also spent time as a branch manager for Franklin First Financial Ltd. and managing director for Affordable Financial Services Ltd.
In his interview with Berman, Tehrany outlined why it is important to define your process and to better scale your business as a loan originator.
Highlights from the interview:
• "Specifically, I think it's just really around process," said Tehrany when discussing the best ways to scale your business as an LO. "How are you taking applications? How are you communicating with your borrowers? How are you deriving opportunities every day? Are you referral-based? Are you lead-based? How is your business engineered as an LO?" are all questions Tehrany says you should be asking yourself when trying to scale your business.
• "A lot of that is around your tech stack," said Tehrany when asked how his company stays connected with their borrowers. "There's only so much communication you can do as a loan officer during the process and after the process. So, we've automated a great deal of it. For us, it's just about staying in front of your borrower and staying in touch."
• Tehrany believes that the best loan originator assistant is one that you build and invest in on your own by training them and giving them the best tools to succeed.
• He decided that he would open his own brokerage to maintain control over his tech stock, his process and his branch. He wanted more operations and fewer originators. While he said the New York regulators are tough, he had a pleasant experience obtaining his license for his brokerage.
• Tehrany launched his brokerage in March and obtained his license just as the COVID-19 pandemic was hitting its peak. He said he wishes he did it sooner because he could have had a head start compared to where he is now.
• Being able to engineer his own process, being able to control every aspect of the process and United Wholesale Mortgage were big influences in Tehrany's decision to create his own brokerage.
• Tehrany said UWM made the business seem truly scalable to him. He said that when you are a company like UWM writing 60,000-70,000 loans a month and doing $30B the economy to scale is enormous.
• "For a guy like me who is technically inclined and process-oriented, the ability to be able to close loans in a week and a half, two weeks, 10 days, 14 days, 16 days, my closing turn time went down by 65%. I don't have to wait 60 days to close, I can close a purchase in 30 days easily," he continued, when speaking about UWM's tech stack and processes.
• "I kind of fell into mortgages. It was attractive because it was interesting, every transaction is something unique. I think it's great because you're really helping consumers and educating them. Which is also why I love the broker side of the world; the margins are a lot lower and that's great. That means your consumer gets a better deal and that's good for the world and good for consumers. It feels good to take care of people and do the right thing."
Check out the full interview with Tehrany and Berman below.
Previous guests include Robert Broeksmit, Josh Friend, Joe Dahleen, Kristy Fercho, Mat Ishbia, David Luna, Barry Habib, Rob Chrisman and more.
See all the interviews from the Mortgage Leadership Outlook series on its YouTube channel.