ReverseVision President Joe Langner To Appear On Mortgage Leadership Outlook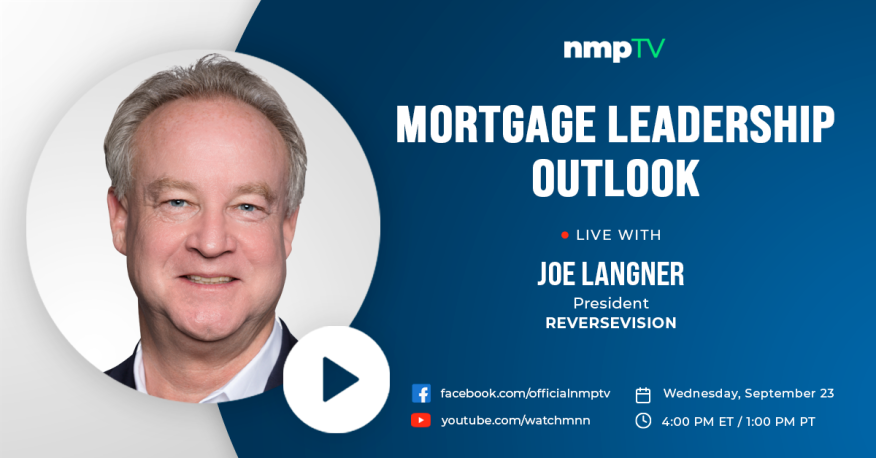 ReverseVision president Joe Langner will appear on this week's Mortgage Leadership Outlook on Wednesday, Sept. 23. He will join series' host Andrew Berman, head of engagement and outreach for National Mortgage Professional magazine, as they discuss where mortgage technology is today, it's roots, what he sees for future opportunities in technology and why he felt reverse mortgage was such a huge opportunity that he joined ReverseVision
Join in on the conversation with Langner and Berman. Log on to the NMP Facebook page and post your questions in the comments section. Langner and Berman will answer questions live, and discuss important topics in the industry at 4 p.m. EDT, Wednesday, Sept. 23.
Langner has been in top executive positions at some of the biggest tech brands in mortgages including Ellie Mae, Blue Sage, PC Lender (Fiserv) and now with ReverseVision. He took over as president of ReverseVision just as the COVID-19 pandemic forced nationwide stay-at-home orders in March.
Previous guests include Robert Broeksmit, Josh Friend, Joe Dahleen, Tim Nguyen, Kristy Fercho, Tony Thompson, Mat Ishbia, David Luna, Barry Habib‍, Rob Chrisman and more.
See all the interviews from the Mortgage Leadership Outlook series on its YouTube channel.