Banosian Shares What It Takes To Be A Top Tier LO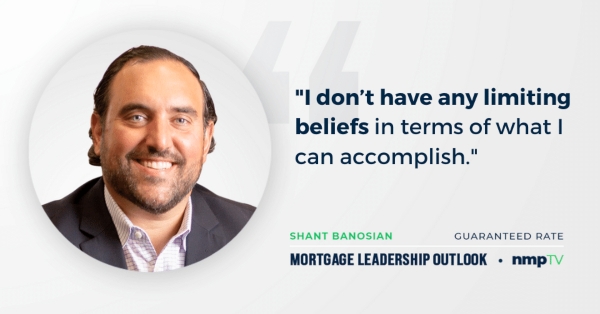 Shant Banosian, Guaranteed Rate's No. 1 loan officer, appeared on Wednesday's episode of the Mortgage Leadership Outlook. Banosian joined series' host Andrew Berman, head of engagement and outreach for National Mortgage Professional Magazine as they discussed how he went from being a good producer to a great one, his daily habits, and how he plans on taking his business to the next level.
Banosian is Guaranteed Rate's No. 1 loan officer nationwide five years running, with 1,907 closed units and $915 million in funded loans in 2019. In 2020, he broke all industry records hitting a billion dollars in production (and the year isn't over yet). He has more than a decade of experience in the mortgage industry and has an impressive career volume of more than $2 billion in funded loans. Banosian's impressive run was covered in National Mortgage Professional Magazine's November 2020 edition.
Highlights From The Interview:
Back when Banosian started out, his success was based on building momentum throughout his day, solving issues in the afternoon and then making as many business connections as possible later on in the evening.
"Valuing the relationships with the clients was super important," said Banosian reflecting on his time at Champion Mortgage. "Really understanding why a client wants to do business, what's important to their decision making in terms of building that relationship and understanding their emotional link to why they want to buy a house or refinance."
Banosian said another valuable lesson was the importance of being able to stand out. He said communicating your value and difference from the competition is important.
"My goal has always been to be the upper echelon of loan officers. I really made that leap my first year at Guaranteed Rate." He jumped from doing $50 million in loans to almost $130 million. The next big leap came from $180 million to $300 million.
"The real secret to my success now is the people I surround myself with. I have an amazing team. I think the other part of it is that we just really work hard on the business. A lot of loan officers look at themselves as just a salesperson and that's OK. Everybody has their own goals and what they want to do. I look at myself as a business owner, as a CEO of my team. I'm focused on all facets of my business, not just how many deals can I bring in. I look at it how my sales, business development, marketing, operations and client retention are doing."
"I don't have any limiting beliefs in terms of what I can accomplish. I did $1 billion this year. There's going to be a bunch of other producers that probably do $1 billion in business."
"We do a lot of planning, we do a lot of forward-thinking and we try to sort of execute. We got to $1.5 billion. I think we can do more. All these other companies how figured out how to do $10 billion, $15 billion, $20 billion, $50 billion. I'm just trying to do my little slice of it. So if they figured it out, I feel like we can figure it out within our platform."
"I make sure my team is constantly having weekly meetings in terms of talking about our accountability measurements. We measure certain metrics every single week and we have that meeting around what that goal is, what the actual numbers are and what the outcomes are. If we're not hitting those goals, we're talking about why and we're developing plans to get back on track right away."
"I think that loan officers who adopt and adapt to technology and utilize it as a part of their business are going to far exceed loan officers that don't."
See the entire episode below.
Click here to check out last week's special VA Lending episode of the Mortgage Leadership Outlook.
Previous guests include Robert Broeksmit, Josh Friend, Joe Dahleen, Tim Nguyen, Kristy Fercho, Tony Thompson, Mat Ishbia, David Luna, Barry Habib, Rob Chrisman and more.
See all the interviews from the Mortgage Leadership Outlook series on its YouTube channel.