Mortgage Rates Hit A Record-Low For The Thirteenth Time In 2020
After creeping up last week, Freddie Mac's Primary Mortgage Market Survey reported that mortgage rates reversed course, hitting a historic low for the thirteenth time this year. The 30-year fixed-rate mortgage averaged 2.72% for the week ending Nov. 19, 2020, down from last week's average of 2.84%. The 30-year fixed-rate mortgage averaged 3.66% for the same period in 2019.
"Weaker consumer spending data, which accounts for the majority of economic growth, drove mortgage rates to a new record low," said Sam Khater, Freddie Mac's chief economist. "While economic growth remains unstable, strong housing demand continues to have a domino effect on many other segments of the economy."
The 15-year fixed-rate also fell to 2.28% from last week's average of 2.34%. The 5-year Treasury-indexed hybrid adjustable-rate mortgage averaged 2.85% down from last week's average of 3.11%.
As rates continue to stay well below 3% in the final stretch of 2020, experts expect the trend of low rates to continue well into 2021.
"In 2021, tenure length appears poised to continue to rise, which will prolong the housing supply shortage and dampen housing market potential. Mortgage rates are anticipated to remain low and millennials are widely expected to continue to form households, boosting demand for homes. The trend in housing market potential will likely depend on the labor market's recovery and how lenders adjust credit standards," commented Mark Fleming. chief economist, First American Financial Corp.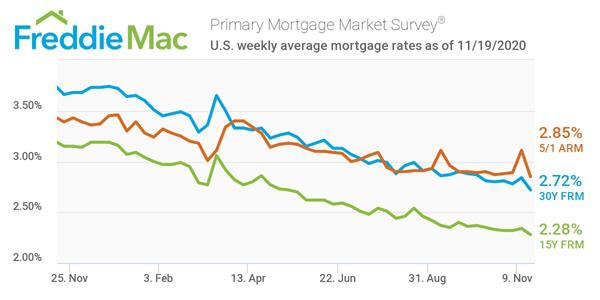 Subscribe to the NMP Daily