Goldman Sachs: Housing Affordability Biggest Challenge For Market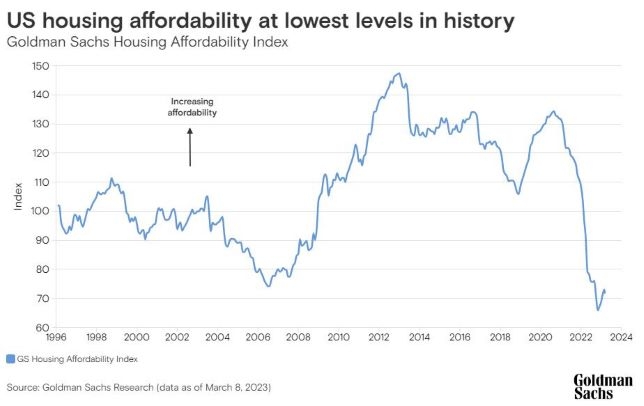 Says its housing affordability index is at an historically low level.
Affordability is the biggest challenge facing the U.S. housing market, according to strategists with Goldman Sachs Research.
In a report included in its Briefings newsletter, the strategists said the Goldman Sachs Housing Affordability Index — which measures the extent to which a typical household can afford a new mortgage — fell to around 70 as of March 8, well below a level deemed healthy.
The index attempts to quantify the ratio between the median monthly income and the median monthly mortgage payment. When the index is at 100, affordability is at an equilibrium level. When it falls below 100, affordability declines.
Despite rising income levels in recent years, two key factors have driven housing affordability down in the U.S., the strategists said: higher home prices and mortgage costs.
According to credit strategist Vinay Viswanathan, deteriorating affordability could have significant implications for the U.S. housing market:
Some lower-income households, which might have been on the cusp of buying a house, now can't afford it, he said. Instead, they've been forced to continue renting.
"Owning a home is an important part of most people's lives, and this is certainly making it harder," Viswanathan said.
In addition, it means people aren't buying homes. Instead, they are waiting for mortgage rates to fall and for better financing conditions to come, he said.
Homeowners also likely won't want to sell because there aren't better options right now, he said, explaining the "lock-in effect." It's when people aren't buying or selling homes as they have in the last 20 years because their existing mortgage rate is far below those now available.
Viswanathan said he expects declining affordability to cause home prices to slip further. Overall, his team expects U.S. house prices to fall an additional 6% in 2023.