MBA: Mortgage Rates To Fall As Spread Shrinks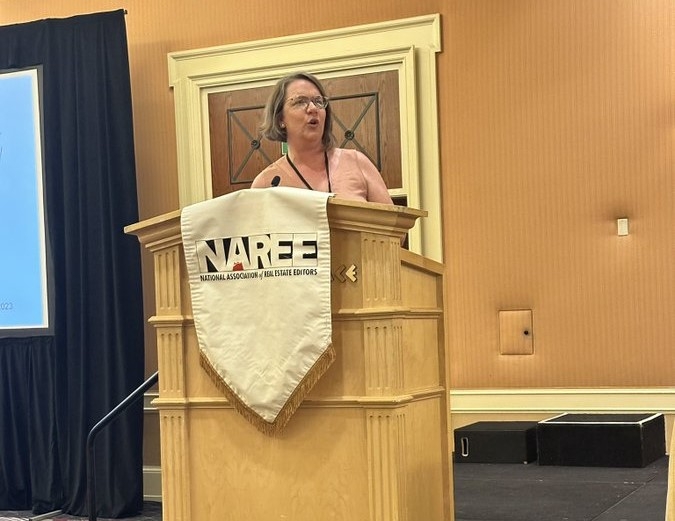 Zillow Chief Economist Skylar Olsen speaks to members of the National Association of Real Estate Editors in Las Vegas on Thursday, telling them that 'housing unaffordability isn't going away anytime soon.'
NAREE via Twitter
Economists tell real estate editors to expect some improvement in the housing market in 2024.
KEY TAKEAWAYS
MBA expects loan rates to average 5.6% by end of 2023.
NAR expects rates to average 5.6% in 2024.
LAS VEGAS — The historic spread between the 10-year Treasury yield and 30-year mortgage rates should shrink by the end of the year, the Mortgage Bankers Association's (MBA) deputy chief economist said here Thursday.
Joel Kan didn't offer any prediction about how far the spread would shrivel, or if it would wither at all. But he did tell real estate journalists gathered at their annual conference that "even a 75-basis-point change will have a big impact."
Traditionally, the 10-year Treasury rate is 180 basis points (bps) or so, but of late it has been more than 300 bps.
Kan also told the National Association of Real Estate Editors during their annual conference that the MBA expects loan rates to average 5.6% by the end of the year, and that overall lending volume will hit $1.8 trillion.
The MBA hopes the Federal Reserve Board will take "a wait-and-see" approach next week, pausing its assault on inflation by raising the federal funds rate banks charge one another.
A further increase in the rate "is not in our baseline projections," Kan said. But he conceded the Fed could start raising the rate anew if inflation goes back up. "A lot can happen between now and then," he said.
For 2024, the current MBA forecast is for rates in the 5.5% range and for originations to rise 25%, mostly in purchase mortgages. "There could be some cash-out refi activity," the economist told the meeting, "but mostly purchase."
NAR: 2024 Sales To Rise 15.4%
In another conference session, Jessica Lautz, deputy chief economist for the National Association of Realtors (NAR), predicted that existing home sales will dip 9.3% this year before making up that decline and then some next year by increasing 15.4%.
Existing-home prices will leap 28% in 2024, after falling 1.8% this year, she ventured.
NAR expects loan rates to fall back to an average of 5.6% next year.
In his presentation, Kan also said the market should see some improvement in credit availability "in the coming months."
"We're at a point where everyone's done tightening," he said. "There's still some risk aversion, but it's starting to open up.
Other speakers at the conference noted the so-called "lock-in" effect of low interest rates, in that homeowners are loathe to give up their 3% mortgages to buy another house.
First American Financial Corp. Economist Odeta Kushi said 83% of all mortgaged houses have rates below 5% and are effectively "off the market."
But Kan said that, at some point, people will be willing to give up their low-rate loans to get something bigger and better, perhaps in a better neighborhood.
And Shashank Shekhar, CEO of InstaMortgage in San Jose, Calif., said that as the economy finds a more stable foothold — "perhaps in a year or so" — the mortgage market will start to see more activity.
Shekhar also said 2022 "wasn't such a bad year" when it is viewed in perspective. Yes, there was a 50% drop in loan production, but "we were coming off such a great year in 2021."
Zillow: Prices Likely To Keep Rising
In another conference session, Zillow's chief economist told reporters that housing "unaffordability" isn't going away anytime soon.
"We're not in that space where things will suddenly become more affordable," Skylar Olsen said.
Rather, she said, people's ability to buy houses is still heading in the wrong direction. Noting the lack of supply and strong demand from millennials for what few houses are on the market, she said "prices are likely to keep rising through 2024."
It's just not a good time for many buyers, especially for those who barely qualify for financing, the Olsen said. "That person on the cusp has a really hard time knowing if they can more forward in this environment."
Meanwhile, in Washington, D.C., the National Association of Home Builders (NAHB) reported that affordability improved in the first quarter, but is still "significantly lower" than in the first quarter of 2022.
The NAHB's first-quarter Housing Opportunity Index (HOI) showed that nearly 46% of both new and existing houses sold in the three-month period were affordable for families earning $96,300, the nation's median income.
That's better than 38% in last year's fourth quarter, but far lower than 60% a year earlier. The NAHB credited "solid wage gains" coupled with slightly lower mortgage rates and lower house prices for the first-quarter improvement.