Mortgage Delinquencies Rose In April, But Blame The Calendar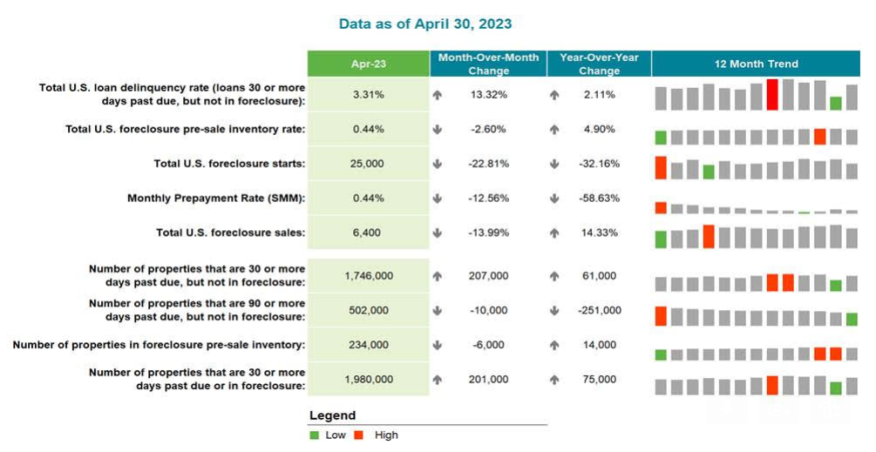 Black Knight 'first look' finds national delinquency rate jumped 13%.
KEY TAKEAWAYS
The sudden increase was largely due to a quirk in the calendar — the fact that April ended on a Sunday, which affects payment processing.
After hitting a record low in March, mortgage delinquencies spiked 13% in April, Black Knight said Wednesday.
The software, data, and analytics company released its "first look" at month-end mortgage performance statistics for April 2023 derived from its loan-level database representing the majority of the national mortgage market.
The report said the sudden increase in delinquencies was largely due to a quirk in the calendar — the fact that April ended on a Sunday, which affects the processing of any payments made on the last calendar days of the month. "More people than you might imagine wait until that very last day," said Mitch Cohen, a Black Knight spokesman.
The number of borrowers who were a single payment past due saw the biggest jump — totaling more than 200,000, or a 25% increase — which matches the historical impact of this kind of calendar-related event, Cohen said.
"If historical trends hold true, much — if not all — of that spike will likely reverse itself next month," he said. "Serious delinquencies (those 90 days or more past due), on the other hand, continue to improve, with the number of such loans dropping in 45 states and Washington D.C. in April."
Foreclosure starts fell to 25,000 for the month, the fewest since September of last year and 45% below April 2019, before the pandemic, Black Knight said. Foreclosure was started on 4.9% of seriously delinquent loans in April, down slightly from March and still more than 4 percentage points below the monthly average prior to the pandemic, the report said.
The number of loans in active foreclosure in April fell by 6,000 from March, and is now down 60,000 ( or 21%) from March 2020. Also, the 6,400 foreclosure completions in April represented a 14% decline from March, Black Knight said.
Prepayment activity, which historically is driven largely by refis and home sales, gave up much of March's gains, falling to a single-month mortality rate of 0.44% and providing further indication of a spring homebuying season struggling under the weight of higher rates and scarce for-sale inventory, Black Knight said.
The states with the highest percentage of non-current mortgages (which combines foreclosures and delinquencies as a percent of active loans in that state) in April were Mississippi (7.61%), Louisiana (7.24%), Alabama (5.7%), West Virginia (5.14%), Pennsylvania (5.05%).
The state with the lowest percentage of non-current mortgages in April were Oregon (2.22%), Montana (2.19%), Idaho (2.16%), Washington (2.04%), and Colorado (2.02%).
Black Knight will provide a more in-depth review of this data in its monthly Mortgage Monitor report, to be released June 5.