Mortgage Rates Drop In Wake of Bank Failures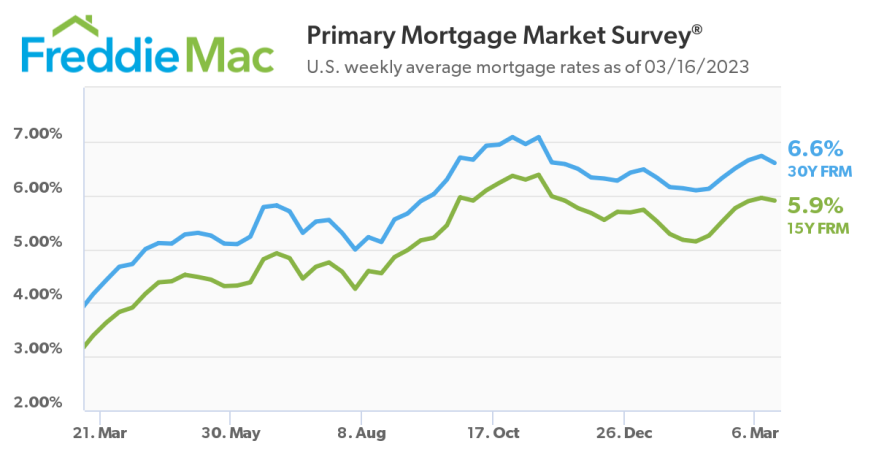 30-Year Fixed-Rate Is At 6.6%
Following all the turbulence in the financial markets, the 30-year fixed-rate mortgage rate fell this week to 6.6%. 
Freddie Mac's Primary Mortgage Market Survey found rates dipped this week after increasing more than half a percent over the last five weeks. 
Freddie Mac Chief Economist Sam Khater said this should benefit borrowers in the short term. 
"During times of high mortgage rate volatility, homebuyers would greatly benefit from shopping for additional rate quotes," Khater said. "Our research concludes that homebuyers can potentially save $600 to $1,200 annually by taking the time to shop among multiple lenders."
But it wasn't enough of a drop to make homebuying affordable. 
"At today's rate, many can afford to buy a median-priced home since they need to spend less than 25% of their gross income for a monthly mortgage payment," Nadia Evangelou, senior economist and director of real estate research for the National Association of Realtors, said. "If rates fall further to 6%, buyers will be able to purchase the median-priced home by putting down 14%, which was the median down payment of buyers in 2022."
She said that rates might decrease even further in the coming weeks depending on reactions in the financial market and the outcome of the Fed's meeting next week.
"Buyers pounced when rates fell because they're so volatile right now, which shows that there are plenty of people waiting in the wings for the right time to enter the market. Where mortgage rates go from here largely depends on how the Fed reacts to chaos in the banking industry in the U.S. and abroad, alongside stubbornly high inflation," said Redfin Economics Research Lead Chen Zhao.
Freddie Mac reported Thursday that the 30-year fixed-rate mortgage averaged 6.6%, down from 6.73% last week, but still up from a year ago when it averaged 4.16%. The 15-year fixed-rate mortgage averaged 5.9%, down last week when it averaged 5.95%, but much higher than a year ago when it averaged 3.39%.
Last November, rates hit a high of 7.08% and had been trending downward for most of the year until February, when they started to climb back up. All eyes will be on the Fed meeting next week. 
"The Fed's goal at its meeting next week is to achieve a balancing act: Fight inflation while keeping the banking system intact," Chen said. "Even though the European Central Bank hiked interest rates more than expected this morning, it's unlikely the Fed will follow suit. Instead, we expect them to either raise rates modestly or press pause for the time being, the latter of which would send mortgage rates down and bring back many sidelined buyers and sellers."
Freddie Mac's PMMS is focused on conventional, conforming, fully amortizing home purchase loans for borrowers who put 20 percent down and have excellent credit.