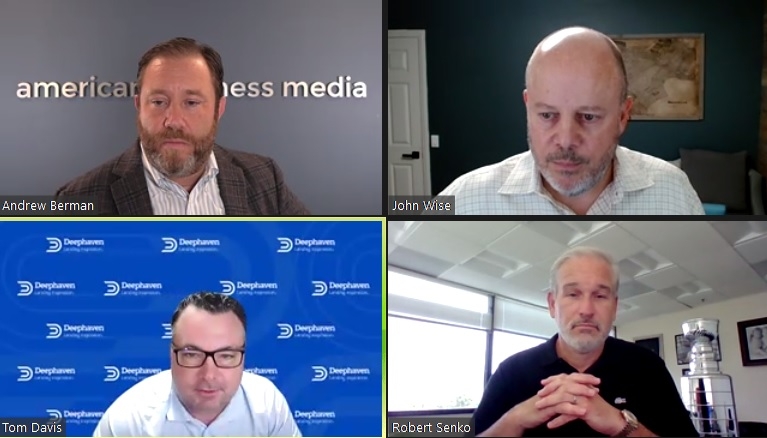 Loan officers' survival, that is.
"Sell the solution, not the rate" was the shared message Non-QM leaders imparted on loan officers listening in to a webinar on Thursday.
American Business Media's Non-QM Town Hall, hosted by Head of Engagement and Outreach Andrew Berman, featured ACC Mortgage President Robert Senko, John Wise, EVP of Sales and National Production at NewFi Wholesale and Tom Davis, chief sales officer at Deephaven Mortgage.
"The 100,000 loan officers still in the business today are the ones who have transitioned from selling rate to selling solutions," said Wise. "You make it by understanding the products and partnering with good companies that are going to help you grow your overall production."
Davis echoed this thought, encouraging folks to become well-versed in each of the non-QM products their company offers.
"Become a product expert," he said.
Senko called Non-QM loans "the glue" that keeps LOs in business through different cycles.
"The key is to check your ego," he said. "Once you're open to learning you can talk to an account executive who can hopefully walk you through the documentation, the upload…creating and fostering those relationships, that's how you take away the mystery."
Davis hailed Deephaven's training workshops on Non-QM lending as a positive way for LOs to educate themselves on the business.
"That's one of our competitive advantages," he said. "I think the education piece its extremely important."
With mortgage interest rates hovering above 7% for a while now, the market has been a difficult one for not only mortgage professionals, but also the potential homebuyers who aren't buying and the sellers who aren't selling.
"Regional bank stress and the new Basel III requirements are causing banks to not want to originate mortgages," Wise pointed out. "That's why the market for Non-QM is so healthy right now."
All three pros reiterated that finding a good partner is key in non-QM lending.
"Not only a good account executive but a good company to back them up definitely is the the number one thing you can do," Wise explained.
Debt Service Coverage Ratio (DSCR) loans were of particular interest to the group, who got into talking about these non-QM loans more than some of the other types.
"It's a commercial underwriting term relatively recently being applied to residential real estate," Wise said after Berman asked him to define the term.
"DSCR is the right product for the right time," Senko added.
Another area that these Non-QM leaders specialize in is serving foreign nationals, many of whom want to purchase investment properties to rent out in the U.S. while maintaining their own residence overseas.
"These are really equity loans," Senko said. "You mitigate the risk as a lender with a little bit of a larger down payment."
NewFi takes "a conservative approach" with foreign national borrowers, according to Wise.
"We lower our LTV by 5%; we've got a limited number of countries we'll do business with," he said. "It's one of the simplest loans you can do, but historically, this has probably been the worst performing loan."
Getting into long-term and short-term rentals, the conversation turned to investors.
"I think rents over time are going to continue to increase and the major reason for that is supply and demand," Davis said. "People need places to live and if you look at inventory it's the lowest we've seen."
"Go see your title rep," Wise added. "They will give you a list of off site mailing addresses, most of those are investors."
All three speakers agreed, whether ITIN, DSCR, or some other Non-QM product, know it before you blow it. And offer as many as possible.
"Don't put all your eggs in one basket," Senko cautioned. "Have those diversified products so when you're talking to people this is another tool you have in your tool belt."
The Federal Reserve did not hike its funds rate earlier in the week, but is expected to before the year's end.
"I think we're in this high rate environment for a long time," Senko said. "No one wants to say it and they didn't want to say it last year, but accept that we're going to be in this until 2025 - I think until well after the election."