PAVE Task Force Presents Action Plan On Appraisal Bias To Biden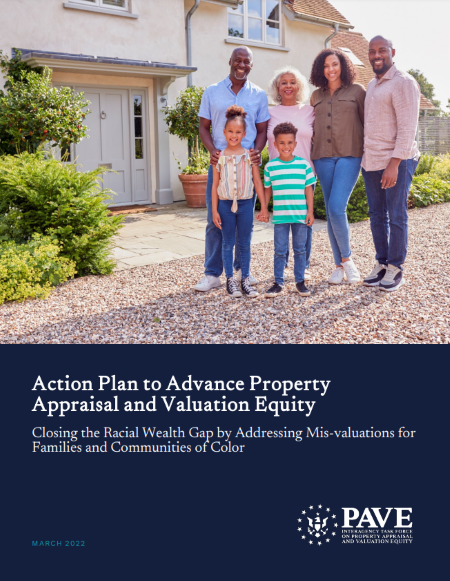 Says the plan represents 'the most wide-ranging set of reforms ever put forward to advance equity in the home appraisal process.'
KEY TAKEAWAYS
Biden charged the Interagency Task Force on Property Appraisal and Valuation Equity (PAVE) with investigating appraisal bias and recommending solutions.
The task force includes senior leaders from 13 Cabinet and independent agencies and components of the Executive Office of the President.
Nine months after President Biden created a task force to investigate bias in housing appraisals and charged it with recommending solutions, the group has presented the White House with its findings.
The U.S. Department of Housing & Urban Development (HUD) delivered to President Biden a checklist of tasks created by the Interagency Task Force on Property Appraisal and Valuation Equity (PAVE). The PAVE Action Plan is intended to help dismantle racial bias in the home-lending and appraisal process, and to promote generational wealth creation through homeownership, HUD said. 
"This action plan, when enacted, represents the most wide-ranging set of reforms ever put forward to advance equity in the home appraisal process," HUD said in a news release. 
The PAVE Task Force, co-chaired by HUD Secretary Marcia L. Fudge and White House Domestic Policy Advisor Susan Rice, is the first-of-its-kind interagency initiative to address racial bias in home appraisals. It includes senior leaders from 13 Cabinet and independent agencies and components of the Executive Office of the President, HUD said.
The plan outlines actions, HUD said, that "will substantially reduce racial bias in home appraisals, including steps federal agencies will take using their existing authorities to enhance oversight and accountability of the appraisal industry and empower homeowners and homebuyers to take action when they receive a valuation that is lower than expected."
According to a HUD fact sheet, member agencies will take the following actions:
Make the appraisal industry more accountable. The plan lays out steps to enhance oversight and accountability of the appraisal industry, which the task force says has long operated in a relatively closed and self-regulated framework and has not been effective at addressing deep-rooted inequities. Specifically, it commits federal agencies to creating a legislative proposal to modernize the governance structure of the appraisal industry, and improving coordination and collaboration between federal enforcement agencies to better identify and redress discrimination in appraisals.
Empower consumers with information and assistance. The action plan includes concrete efforts to empower homeowners and homebuyers on steps they can take when they receive a lower-than-expected valuation. For example, federal agencies commit to issue guidance and implement new policies to improve the process for reconsidering a valuation.
Prevent algorithmic bias in home valuation. Federal agencies that regulate mortgage financing commit to including a nondiscrimination quality control standard as part of a forthcoming proposed rule establishing quality control standards on Automated Valuation Models (AVMs). This will ensure AVMs do not rely upon biased data that could replicate past discrimination.
Cultivate an appraiser profession that is well-trained and looks like the communities it serves. According to the Department of Labor's Bureau of Labor Statistics, the appraiser/assessor profession is roughly 97% white, making it one of the least diverse professions in the country. The action plan lays out a series of actions to remove unnecessary educational and experience requirements that make it difficult for underrepresented groups to access the profession and to strengthen anti-bias, fair housing, and fair lending training of existing appraisers.
Leverage federal data and expertise to inform policy, practice, and research on appraisal bias. The action plan proposes developing an aggregated database of federal appraisal data to better study, understand, and address appraisal bias, complemented by a working group composed of subject matter experts from stakeholder agencies to develop a research agenda on appraisal bias.
"For generations, millions of Black and brown Americans have had their homes valued for less than their white counterparts simply because of the color of their skin or the racial makeup of the neighborhood," HUD's Fudge said. "Black and brown homeowners in communities just like mine have not felt that they have had a voice or that the federal government was doing enough to redress the issue of racial bias in the appraisal process."
With the PAVE Task Force, she said, "the Biden-Harris Administration is taking a whole-of-government approach to fixing this problem. (W)e are looking forward to continuing to work within the administration and with partners to do all we can to root out discrimination in the appraisal and homebuying process."
Rice, the administration's domestic policy adviser, agreed. "Since his very first day in office, President Biden has made advancing equity and racial justice a top priority across the entire federal government," she said. "We have a long way to go, but the steps laid out in this action plan will help our country reduce bias in home valuations, narrow the racial wealth gap, and deliver a stronger and more equitable future for all Americans."
Biden first announced creating the task force on June 1, 2021, the centennial of the Tulsa Race Massacre. At that time he charged federal agencies with evaluating the causes, extent, and consequences of appraisal bias, and to establish a transformative set of actions to root out inequity. 
HUD said homeownership remains the biggest driver of the wealth gap, with wide racial and ethnic disparities in homeownership rates and the financial return associated with owning a home. It noted that the median wealth of an average white family is eight times that of the average Black family, and five times the wealth of the average Latino family.
The PAVE Task Force engaged more than 150 stakeholder groups, including appraisers; appraisal management companies; lenders; civil rights and advocacy groups; academic institutions; philanthropy organizations; and individuals who have experienced instances of appraisal bias, to learn diverse perspectives on what is working and how the federal government can work to embed equity in the home valuation process.
HUD said researchers have observed a market value gap between majority-Black and majority-white neighborhoods for decades and that, on average, homes in majority-Black neighborhoods are valued at less than half of those in neighborhoods with few or no Black residents. 
Statistical analyses show that accounting for neighborhood and property characteristics and amenities — such as the age of the property or its proximity to public transportation — does not explain the entire disparity. Recent research has identified appraisals as one of the drivers of the gap, HUD said. 
Research published last year by Freddie Mac, using census data, finds 12.5% of appraisals for home purchases in majority-Black neighborhoods and 15.4% in majority-Latino neighborhoods result in a value below the contract price (the amount a buyer is willing to pay for the property), compared to only 7.4% of appraisals in predominantly white neighborhoods.
Federal Housing Finance Agency Acting Director Sandra L. Thompson said, "Today's report affirms the persistence of bias in the housing finance system and provides a roadmap for the federal government to work across agencies, and with Congress, the civil rights community, and industry stakeholders to take meaningful steps against factors that contribute to the mis-valuation and devaluation in property appraisals experienced by borrowers and communities of color."