Vigilance, Dedication, And Commitment Forge Legends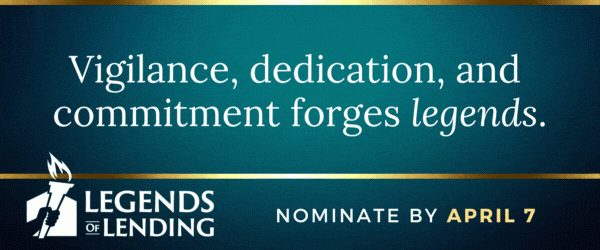 Submit a nomination for Mortgage Banker Magazine's Legends of Lending.
A legend is defined as someone admired by a lot of people. Help us honor the legends in our industry: those people who are admired for their dedication to what they do.
Mortgage Banker Magazine seeks to recognize the Legends of Lending — the key players who have diligently represented the industry with confidence, compassion, and pride. 
We're looking to honor the people who have committed their time to make the mortgage industry or the journey to homeownership a better place for all.
Who is a legend? Anyone working within the mortgage industry, aged 40 or up, and with at least 15 years of experience in the industry.
Check out the June 2022 issue of Mortgage Banker Magazine to see last year's Legends of Lending.
Click this link to nominate a Mortgage Banker Magazine Legend of Lending. The deadline is April 7