NMP Mortgage Professional of the Month: Frederick L. Assini, President and Chief Executive Officer of Franklin First Financial Ltd.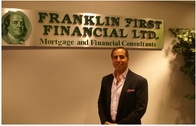 Each month, National Mortgage Professional Magazine will focus on one of the industry's top players in our "Mortgage Professional of the Month" feature. This month, we had a chance to chat with Frederick L. Assini, president and chief executive officer of Melville, N.Y.-based Franklin First Financial Ltd. At just 27 years of age, Fred created Franklin First Financial with a vision and determination to build one of the country's finest lending institutions. Today, as company president, CEO and sole shareholder of Franklin First, he oversees a 40-state business operation with sales of more than $2 billion annually. A native New Yorker, Assini attended St. John's University, focusing his academic attention on the field of finance. He began his career as a sales manager for a successful home improvement corporation with an exclusive partnership with Sears. It wasn't long before he rose to the position of president, supervising all sales, finance and investor relations. It was during this period that the idea of running his own company took form. In 1993, he opened Franklin First Financial in a small building in Elmont, N.Y. Since then, Franklin First has moved to a three-story facility in West Hempstead, N.Y. with a staff of more than 250 employees. Credit for the company's growth is widely given to Fred's executive marketing strategies and personal philosophy of customer service, together with a commitment to leading-edge technology and financial product diversity. Through Assini's philosophy of treating every customer as if they were the company's only customer, Franklin First Financial enjoys a large percentage of repeat business, as well as referrals from real estate professionals. Tell us a little about your background prior to entering the mortgage business. My family was in the remodeling business, and much of our remodeling projects revolved around financing. Because we had to do a lot of financing, I was always somehow involved in running credit reports and calculating debt-to-income ratios. In the early 90s when home improvement loans became scarce, we had to seek out professionals to do mortgages. When we started seeking out mortgage brokerages back then, we weren't too happy with the service we were getting, so we stared doing the mortgages ourselves. When we did a mortgage and the client wasn't happy with the broker, it would reflect poorly on us. We ended up doing the mortgages ourselves as an adjunct to our remodeling business. The mortgage business remained a side business until about 1993, when I saw that not only the business was growing by referrals and the hiring of loan officers, but the leads were coming in more than with our remodeling business. I knew how to do a lot of sales. I felt that selling a mortgage became a lot easier than selling a kitchen remodel. I saw it as a cash flow that was easier because you didn't have to lay out money for labor and materials. Those factors swung me more to the mortgage side of the business. What sort of marketing techniques did you use when you first launched Franklin First Financial? Do you utilize any of those same techniques to this day? When we first launched, we used a lot of referrals and we were doing some direct mailings. We also had an inbound call center that took applications. Today, we still keep our face in home visits and appointments. We sit down with the clients and explain the entire mortgage process. We also still do a lot of training of loan officers. We are able to train loan officers into the business, instead of hiring LOs from the outside. That was always one of our strengths. We hire people who weren't in the mortgage business and teach them the business. One of the gentlemen recently hired in our retail centers was a financial planner prior to joining Franklin First. He was hired three months ago, and he's been closing four loans per month in a three-month span so far. I cannot say that one particular marketing method has brought in the largest number of calls, but I feel a marketing mix is very important. I think you have to be very versatile. We had a TV commercial and I didn't like the quality, and the same went for our radio spot. You need a wide array of testing to see exactly what works. As you grew professionally or in your business, what are some the practices you still maintain to this day as you've grown? My philosophy is still the same to this day. I didn't try to grow the company too quick. It's has been organically grown from within. We never went outside to borrow capital to grow. We used our own money to grow. We have people here who have 12-plus years with the company. That was my basic principle. I'm 43-years-old and realize that I have a long time to keep growing successfully. I never tried to go too far and have offices worldwide. I'm pretty laid back. We are a mid-sized company and didn't grow to compete with the Flagstar Banks, and Option One Mortgage Corporations of the world. Is there a long-term goal of the company to get to those levels? You've experienced steady growth over the years and are licensed in over 40 states. Right now, there is the opportunity to get to that level one day, and it will take a few more years to think like that again. The company is set up to go nationwide. We just got our Fannie Mae approval, an approval that is very hard to get as you need the proper net worth requirements, etc. We are going to be the seller/servicer, which means we actually can compete with banks like Citi and Chase. That is our goal. We are set up to do loans for the U.S. Department of Housing & Urban Development (HUD) and Fannie Mae, and with our upcoming Ginnie Mae platform, we will have all the irons in the fire. What do you do to encourage your loan officers to get more referrals? To this day, we still exercise old-fashioned relationship building. We knock on doors and spend time with our customers, treat them with respect and work weekends at open houses. Purchases are currently on the rise and we are getting market share in that department each day. We have the products to offer and provide good service. A lot of companies don't have that mentality with respect to service. At Franklin First, we have a strong operations and service center. It is completely separate from our sales center. This is everything a mortgage banker or sales agent does not want to do … warehousing, compliance, IT, accounting, underwriting, etc. … everything that has nothing to do with sales is done out of our service center building. Having a service center does not interfere with the daily work environment with sales. Our sales centers are processing and sales centers and everything else is done at a separate service center. The system works out well. The salespeople do their jobs and the back-end of the business is doing their job. The back-end is oftentimes more important than the front-end. Are there any new lines of business that you see have great potential? At Franklin First, we are focused only on mortgages. We have a reverse mortgage division that is growing tremendously called Senior Funding Group. We were recently listed 97th in the nation for top HECM [Home Equity Conversion Mortgage] originations. We also have our wholesale lending division, Presidents First, offering correspondent and wholesale programs in 40 states. We are always looking for the next big thing and need to grow through relationship-building and not by going out there and offering commissions. Most companies don't realize that it costs $1,500-$1,700 to originate a loan through a system, but it costs $1,000-$2,000 to close a loan marketing-wise. That is where a lot of companies make a mistake when they do marketing and sales and do not realize the actual cost. We get a lot of referral reverse mortgages. It's a nice addition to the company. Can forward loan officers sell reverse loans? We have it separated into separate forward and reverse mortgage divisions. I feel a reverse mortgage loan officer really cares about the client. They are doing it more because they embrace the reverse product. They understand the product and they understand the timeline it takes, generally one to two months to close a reverse mortgage client. The reverse customer is a very sensitive client who needs to discuss issues with family members. It's a much longer process that needs to be understood. How does Franklin First handle the lack of warehouse lines available in the current mortgage marketplace? We were very well-position a year ago, because we had good relationships with our warehouse lenders. We have now switched to other warehouse lenders because the sad part is that some of them were just going out of business. It's not that the model wasn't good. We are dealing with national banks, we never dealt with second tier warehouse companies. One good thing about Franklin First is that we have the net worth requirement to meet 99 percent of the warehouse lenders out there. That's the key. Small companies are being treated unfair in this respect. We are still positioned at a high net worth on a cash basis. We can keep our loans on our warehouse line and make money on it. We don't have to rush it up the line and spin it twice. A lot of companies have maybe a $15 million warehouse line and can do maybe $30 million if they turn it over twice. We don't have to do that. We still have more than $50-$60 million in warehouse lines. It's a stringent process, but we still go to national banks, and there are new players slowly coming into the market. How do you see the regulatory landscape impacting the way business is done over the next few years? It seems that the regulatory landscape changes on a daily basis. Some of these changes are necessary and some of it is hard to understand, but I think that through technology, we can keep up with it. Every time a new compliance rule comes along, a new piece of technology is added to make sure that you're in compliance. Franklin First has a large compliance department and quality control division that keeps up with these regulatory changes. We are currently licensed in 40 states and have branches across the U.S. We keep up on the latest regulatory and compliance issues through our IT department. They upgrade the software to make sure that with things like the Home Valuation Code of Conduct (HVCC), they cannot order appraisals in the last three days of the application. Do you feel that the HVCC has had any impact on values? The rules are the rules and we must follow these rules. You have to originate these loans and some of it may be unfair, but since there are declining values nationwide, whatever went up must come down. There is plenty of business out there where the appraisers do come into it. Again, you do see now where the purchase market is picking up and home prices are returning to more realistic numbers. When houses come down to the right price, consumers will buy. People need a place to live, it's a fact. Some people took on too much financial responsibility, but if the payments come down to the proper levels, they will buy if its affordable. Are there any individuals who have mentored you through this business and have helped shape your approach to business? I think the way my father approached business shaped the way I run a business, whether it's a mortgage business or remodeling business. When he remodeled someone's home, he left the customer with a good taste in their mouth, he always ran a very personable company with a dynamic personality. He always took care of the client to get a referral. He always did the right thing by the supplier. Those practices shaped the way I went into business. He also let me know that making money is easy and keeping it is very hard. He always stressed a slow approach and an organic approach to growing your business long-term. That is why I think I am still in business today. That slow approach leads to a proper business that becomes a profitable business and in turn, you will stay in business. That definitely did shape my philosophy of how to run a business. In the mortgage business, I did have some mentors that I looked up to who are no longer in the business. I cannot really say I currently have any mentors, which is sad to say because I aspire to reach another level in the business. All that is left are protégés who want to be me, and I really need a mentor. I used to look up to Angelo Mozilo and certain people in the business and its kind of weird that I am now the one looked up to. I was at an industry trade show once and shook hands with Mozilo. I thought he was my idol. He was a star to me and ran a really good company. There is no one I see as a mentor in the mortgage business. I do business with credit unions and savings banks and look at the way they run their policies and procedures in their little thrifts. I look up to the Chase's and Wells Fargo's of the world and look up to the way they do business. Have there been any books that you read that may have influenced your business philosophy or management style? I don't do a lot of reading. I did see some books about the mortgage meltdown and sub-prime crisis, but I didn't read them because I didn't want to feel negative about the industry. I look to the motivational side to running the business through sales and marketing and learning about the negative things that can impact your business. Right now, I am learning a lot about Fannie Mae and servicing, etc. I'm going to a lot of conferences, such as the 96th Annual MBA Convention in San Diego, to further educate myself. Have you adopted any sort of particular technology that has helped streamline your operations? Over the last couple of years, Franklin First installed a very big back-end program called DataTrac that put tight controls into running a mortgage banking firm in place for us. We are heavily involved in the secondary market, and DataTrac does everything past the origination for us in tracking, even roll costs. When you have a loan that locks in and it rolls past that date because the funders funded it late, you could lose $50,000-$80,000 per month not knowing what your roll cost is. Which side of the business do you see with greater growth potential, the wholesale or retail side? I think more growth will be seen on the wholesale side. Presidents First does business with thousands of brokers. It can change on a month-to-month basis. There could be more retail opportunity one month and then all of a sudden the rules are changed and the bankers go back to the brokers. We will be opening up a correspondent channel in the coming weeks to do business with other bankers that are having warehouse line issues and/or net worth requirement issues. It's a great channel to partner up with other correspondents together. Since Franklin First has a strong backbone of secondary and warehousing, they can tap into our market with us. How has the professionalism of the mortgage broker changed as compared to two or three years ago? I don't know if there is a change, I think most have adapted to the changes of the rules. We have a really nice broker base that get really great service from us. I think that the most important thing to them is our service. I cannot say there is a difference in professionalism because I don't deal with the broker on a daily basis. I think the business has changed because everyone knows there is less business available and the broker has a disadvantage. I think if there are rules that come out, they have to deal with it, such as a spike in rates or the HVCC rule. I think there are fewer brokers in the market these days. I don't think there are broker shops anymore with 20 loan officers sitting around. I think it has become a smaller network in the broker's community that will do some loans. We won't find the mortgage broker doing business in 40 states, as there is no value in that. The broker's presence has become more localized. It's a pleasure doing business with brokers. We value the brokers we do business with to a great degree. Our readers are encouraged to contact us by e-mail at
[email protected]
for consideration in being featured in a future "Mortgage Professional of the Month" column.