ABC Capital Corp. Announces Continued Expansion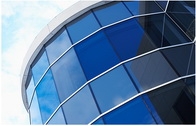 ABC Capital Corp., a New York-based  commercial mortgage lender, is pleased to announce its 37 state wholesale lending territory expansion. ABC's wholesale "reduced documentation" multifamily and commercial mortgage program is focused upon the subject property's "net operating income" for primary loan amount qualification, not the individual's personal income (both investor and owner user) for commercial properties.
Loan applications from $100,000-$5 million are considered for this program. Property types include: Auto repair (mechanical/body), mixed-use, mobile home park, multifamily (five-plus units), office property, retail store (strips malls, self-storage facilities, warehouse structures), and investor-rented one- to four-family properties. Mortgage loans considered for reduced loan amounts for funeral home, hotel, motel, church, more. "A, B, C" credit loans will be considered with varying loan limits.