Zillow: Fixed-Rate Mortgages Fall to 11-Week Low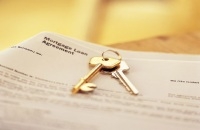 The 30-year fixed-rate mortgage (FRM) on Zillow Mortgages is currently 3.96 percent, down 12 basis points from this time last week. The 30-year FRM spiked to 4.30 percent on Wednesday, then hovered around 4.06 percent for most of the week before falling to the current rate.
"Mortgage rates inched up briefly last week on the heels of Friday's stronger than expected jobs report before falling sharply on Monday, hitting 11-week lows," said Erin Lantz, vice president of mortgages at Zillow. "This week, with limited U.S. economic data slated for release, we expect rate movement to remain muted."
Zillow's real-time mortgage rates are based on thousands of custom mortgage quotes submitted daily to anonymous borrowers on the Zillow Mortgages site, and reflect the most recent changes in the market. These are not marketing rates, or a weekly survey.
The rate for a 15-year FRM is currently 3.07 percent, while the rate for a 5-1 adjustable-rate mortgage (ARM) is 2.83 percent.