BofA Names Moynihan Chairman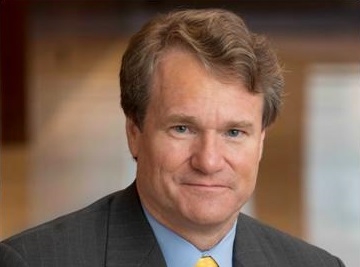 Bank of America has named CEO Brian Moynihan as chairman of its board of directors, succeeding Charles "Chad" Holliday Jr., who served in the position since April 2010. Moynihan's new position marks the first time in five years that the Charlotte, N.C.-headquartered financial giant allowed one person to hold both chairman and chief executive positions. The last person to serve this double duty was Ken Lewis, who was removed from the chairman's role in 2009 following a shareholders' vote. Moynihan succeeded Lewis as CEO in January 2010.
In handing over the chairman's seat, Holliday praised Moynihan's record during the past few years, which included steering the bank through a thicket of legal and regulatory issues that cost the company hundreds of billions of dollars.
"There's more work ahead, but Brian's strategy to simplify the company and connect it with the real economy continues to build value for shareholders," said Holliday. "The board strongly supports the strategy that Brian has set and, after careful deliberation, has decided to take these next steps in our governance responsibilities."
Separately, Bank of America named Jack Bovender Jr. as the board's lead independent director. Bovender, a former chairman and chief executive officer of HCA Inc., has been a member of the board since August 2012.