Multifamily Lending Hits New Record Levels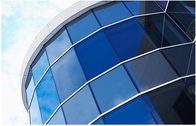 In 2013, 2,898 different multifamily lenders provided a total of $172.5 billion in new mortgages for apartment buildings with five or more units, according to a report from the Mortgage Bankers Association (MBA). The 2013 dollar volume represents an 18 percent increase from 2012 levels.  Sixty-two percent of the active lenders made five or fewer multifamily loans over the course of the year.
"Multifamily lending hit a new record in 2013," said Jamie Woodwell, MBA's vice president of research and economics. "A strong appetite for loans led banks to increases multifamily lending by 19 percent, life companies to increase by 65 percent and the CMBS market to increase by 119 percent.  The report shows increases in multifamily lending among both smaller and larger loan sizes and within most lender segments."
The MBA report is based on its surveys of the larger multifamily lenders and the recently released Home Mortgage Disclosure Act (HMDA) data that covers multifamily loans made by many smaller lenders, particularly commercial banks.
The $172.5 billion of multifamily mortgages originated in 2013 went to a variety of investors.  By dollar volume, the greatest share (39 percent of the total) went to commercial bank, thrift and credit union portfolios.  
The top five multifamily lenders in 2013 by dollar volume were JP Morgan Chase and Company, Wells Fargo, PNC Real Estate, CBRE Capital Markets Inc. and KeyBank. 
The MBA report is the most comprehensive view available of the multifamily lending market and includes:
►A detailed summary of the $172.5 billion multifamily market,
►Profiles of distinct market segments, including the very-small loan (loans of $1 million or less) lender segment,
►A breakout of 2013 multifamily lending volume by investor group,
►A listing of 2,898 lenders who made multifamily loans in 2013, including their lending volume, number of loans made and average loan size, and
►A listing of metropolitan areas and the volume of very-small loans made in each in 2013.
The report is based on data from the MBA 2013 Commercial Multifamily Annual Origination Volume Summation and HMDA. The MBA survey targets dedicated commercial/multifamily originators and covered $359 billion in commercial/multifamily loans in 2013. The HMDA data adds multifamily loans from banks, thrifts and other institutions that meet certain single-family origination thresholds.  When combined, the two datasets provide the most comprehensive assessment of the multifamily lending market available.