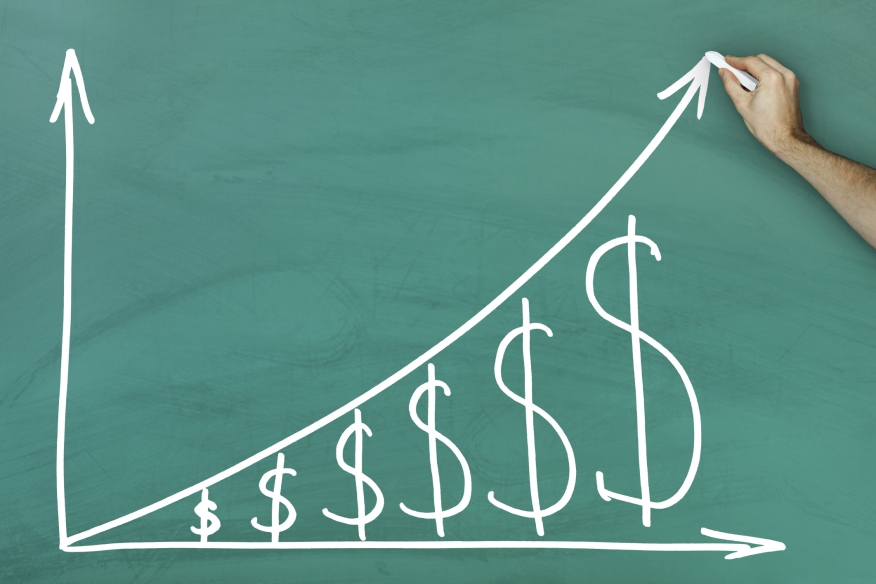 Just in time for the holiday season: The Federal Reserve has decided to take its foot off the brake and raise the funds rate.
In a unanimous vote, the central bank's Federal Open Market Committee (FOMC) determined that the time was right to move forward with raising the rates. "In view of realized and expected labor market conditions and inflation, the Committee decided to raise the target range for the federal funds rate to one-half to three-quarter percent," said the FOMC in a statement. "The stance of monetary policy remains accommodative, thereby supporting some further strengthening in labor market conditions and a return to two percent inflation."
The FOMC added that it expected "economic conditions will evolve in a manner that will warrant only gradual increases in the federal funds rate; the federal funds rate is likely to remain, for some time, below levels that are expected to prevail in the longer run. However, the actual path of the federal funds rate will depend on the economic outlook as informed by incoming data."
While the announcement surprised no one, the initial reaction to the news among industry experts was cautiously optimistic.
"The era of ultra-low interest rates is over," said Lawrence Yun, chief economist at the National Association of Realtors. "Today's short-term rate hike will be followed by several additional rounds of increases in 2017 and 2018. Despite these moves, mortgage rates will not rise alarmingly. By this time next year, expect the 30-year fixed rate to likely be in the 4.5 percent to five percent range."
National Association of Federal Credit Unions (NAFCU) Chief Economist Curt Long agreed that the near-term impact will not lethal.
"On the whole, the impact of a quarter point rate hike on U.S. households should be minimal," said Long. "But for the millions of savers living on fixed incomes, it surely comes as a relief, especially if it is accompanied by a forecast for more in 2017. To that end, the committee's economic projections may hold more interest than the statement itself."
Long added that the Fed's action will not interfere with the next president's policy focus. "The Fed will not make any assumptions about President-Elect Trump's economic agenda," he continued. "A large spending bill accompanied by tax cuts certainly has the potential to increase growth and inflation, paving the way for faster rate normalization in the coming years. But the Fed will stick to its wait-and-see approach." 
"Today's Fed announcement is going to have the greatest impact on first-time homebuyers as they consider their monthly payment budgets," said Jonathan Smoke, chief economist at Realtor.com. "Rates will likely stay the same until about March so buyers considering a purchase in 2017 may want to consider getting into the market now. The Fed—and financial markets—will have to wait to see what comes of U.S. fiscal policies in the weeks and months ahead and how that impacts the economy and the potential for more inflation. Signs point to the Fed raising rates at least three times next year, and just like we've seen in the last month, mortgage rates will likely move proportionately in anticipation of those increases, as clear data emerges about stronger economic growth and inflation."
Steve Hovland, director of research at Irvine, Calif.-based HomeUnion, viewed the news through a property invesment spectrum.
"For real estate investors, higher interest rates have already arrived, and the cost of capital is expected to continue rising through 2017," he said. "This could motivate investors anxious about purchasing single-family rentals (SFRs) to move sooner rather than later. Since the week of the election, average 30-year mortgage rates from Freddie Mac for owner-occupied homes have climbed 60 basis points to 4.1 percent. Investors typically acquire loans at a 50- to 75-basis point premium from the agencies. Overall, higher interest rates will continue to put downward pressure on the homeownership rate as first-time buyers are priced out of the market. Sufficient rental demand will enable property managers to lift rents in virtually every major and secondary metro nationwide, except for the most heated housing markets and in markets where apartment construction is robust."
Barry Habib, founder and CEO of MBS Highway, noted that the financial markets' "initial knee jerk reaction was negative," adding that the bond market in particular was hoping to see "a little bit faster pace" from the Fed in elevating rates. However, he expected "in the next few days and weeks, we will see a nice improvement in mortgage prices and rates."
"The Fed's decision to increase its key interest rate shouldn't be a major cause for alarm with consumers," said Doug Lebda, founder and CEO of Charlotte, N.C.-based LendingTree. "Mortgage rates offered to borrowers on our network have been increasing over the past few month, from an average of 3.6 percent for a 30-year fixed rate loan in August to 4.3 percent as of today, which is a difference of roughly $90 per month. The good news is that lenders have been anticipating the Fed's move and have baked the likelihood of a rate hike into their loan pricing, meaning that mortgage rates are unlikely to change dramatically from where they are today. The good news for housing is that if interest rates are rising because of an improving American economy, consumers are seeing higher incomes, greater job opportunities and better returns on their savings, all of which will work to help counteract rate increases.  With that said, consumers should still re-visit their loans and evaluate their options while rates are still relatively low."
Over on the commercial mortgage side of the industry, Jamie Woodwell, vice president of commercial real estate research at the Mortgage Bankers Association (MBA), looked beyond the news to the near-term future.
"After a year of waiting, markets have given the Fed a window to resume raising the Fed Funds rate," said Woodwell. "The move has been so widely telegraphed, and anticipated, that it is not likely to have a significant short-term impact on borrowing rates.  The real news is in their expectations about how they will act in 2017.  For commercial real estate, the increase is the latest signal that the ultra-low rates of 2016 are likely not the long-term norm, and that borrowers who have not locked-in long-term, fixed rate financing will want to be vigilant about how both short- and long-term rates move going forward."
Back in June, the MBA  predicted a rate hike before the close of 2016 in its Economic and Mortgage Finance Commentary. Just last week, the Sean Becketti, chief economist at Freddie Mac, stated that the Federal Reserve's Federal Open Market Committee (FOMC) may finally take its foot of the fiscal brakes.