California Town Sues "Flintstone House" Owner as Public Nuisance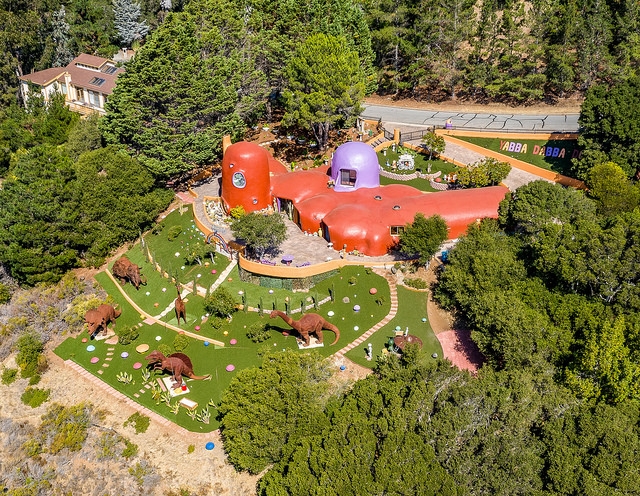 When life turns into a Hanna-Barbera cartoon … The Town of Hillsborough, Calif., has brought a lawsuit against Florence Fang, the owner of an eccentric residence dubbed the "Flintstone House" by locals, charging that she created a public nuisance by adding dinosaur sculptures and landscaping changes that allegedly violate local codes.
According to an Associated Press report
, the orange-and-purple bulbous-shaped house was built out of rock in the 1970s and purchased in 2017 by Fang, a former publisher of the
San Francisco Examiner
. Although the house doesn't exactly look like the Stone Age residence of cartoon characters Fred and Wilma Flintstone, Fang began to install large metallic dinosaur sculptures to the grounds, along with life-sized figurines of "The Flintstones" characters and a driveway sign that reads "Yabba Dabba Doo." She also made several additions to the front and back yards, including a new parking strip.
The town's code enforcement commission ruled in October that Fang's decorative style resulted in "a highly visible eyesore and are out of keeping with community standards" and ordered her to remove her Bedrock-inspired decorations. Fang disregarded the order, and the town brought its lawsuit.
Fang's grandson, Sean Fang, issued a statement on behalf of his grandmother promising a fight to retain the Flintstonesque aspects of the property.
"I think the dinosaurs are beautiful," said Sean Fang. "They make everyone smile and should stay."  
 
(Photo: The "Flintstone House." Photo courtesy Jim Maurer, Flickr / Creative Commons)