Don't Miss Joe Dahleen On Wednesday's Mortgage Leadership Outlook!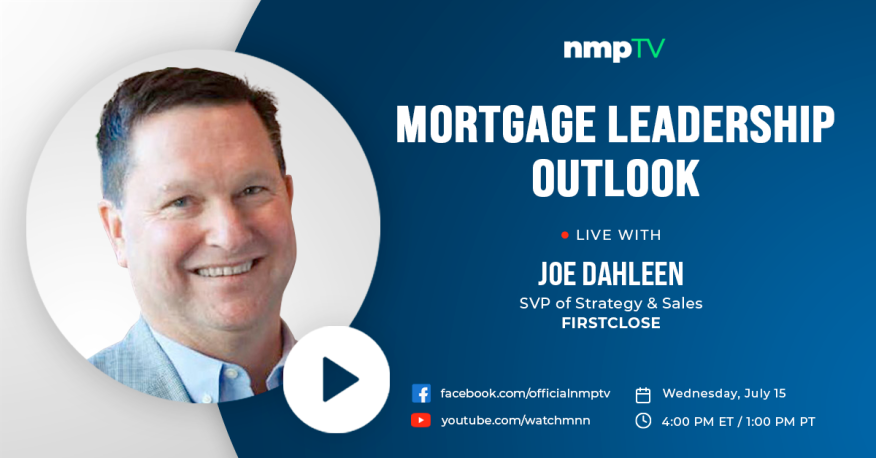 This week's episode of Mortgage Leadership Outlook will feature Joe Dahleen, SVP of strategy and sales for FirstClose. Dahleen and series' host Andrew Berman, head of engagement and outreach for National Mortgage Professional magazine, will discuss the technology shift that occurred due to the COVID-19 pandemic, the pandemic's overall effect on the industry and more.
As COVID-19 continues to pose challenges for the industry, the Mortgage Leadership Outlook series helps mortgage professionals navigate these uncertain times. Be a part of the conversation between Dahleen and Berman. Log on to the NMP Facebook page and post your questions in the comments section. Join Dahleen and Berman as they answer your questions live, and discuss important topics in the industry at 4 p.m., EDT, today, Wednesday, July 15.
When high tech was going from thermal faxes to plain paper, Dahleen was creating pricing and eligibility engines to run in the palm of your hand. He's been ahead of every digital shift long before the industry was aware of that new technology.
Dahleen has worked with numerous companies in the mortgage industry including Ocwen Financial Services Inc., Brightgreen Home Loans, Zillow, Primary Mortgage Capital, Axia Home Loans and more.
Previous guests include Tim Nguyen, Kristy Fercho, Tony Thompson, Mat Ishbia, David Luna, Barry Habib‍, Rob Chrisman and more.
See all the interviews from the Mortgage Leadership Outlook series on its YouTube channel.