MBA President And CEO Robert Broeksmit To Appear On Mortgage Leadership Outlook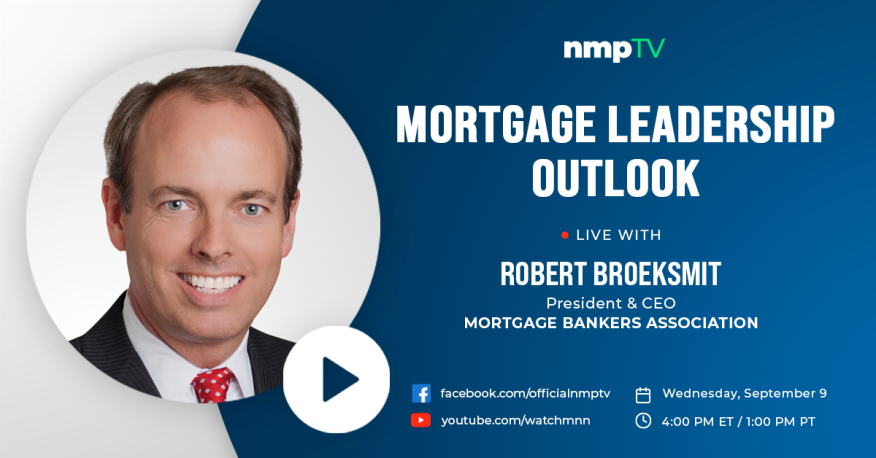 Wednesday's episode of Mortgage Leadership Outlook features Mortgage Bankers Association president and CEO Robert Broeksmit. He joins series' host Andrew Berman, head of engagement and outreach for National Mortgage Professional magazine, as they discuss the FHFA and the MBA relationship, CFPB's extension of the GSE patch and more.
Be a part of the conversation with Broeksmit and Berman. Log on to the NMP Facebook page and post your questions in the comments section. Join Broeksmit and Berman as they answer questions live, and discuss important topics in the industry at 4 p.m. EDT, Wednesday, Sept. 9.
Broeksmit is a senior finance executive and corporate officer with a 33-year career in the mortgage sector, according to the MBA. He has directed all aspects of lending activities, including marketing, sales, operations, secondary marketing, loan servicing, and default management. He has also served as a mortgage underwriting expert testifying on many large, high-profile cases.
Previous guests include Josh Friend, Joe Dahleen, Tim Nguyen, Kristy Fercho, Tony Thompson, Mat Ishbia, David Luna, Barry Habib‍, Rob Chrisman and more.
See all the interviews from the Mortgage Leadership Outlook series on its YouTube channel.