Broeksmit Talks Adverse Market Fee, Non-QM's Future And More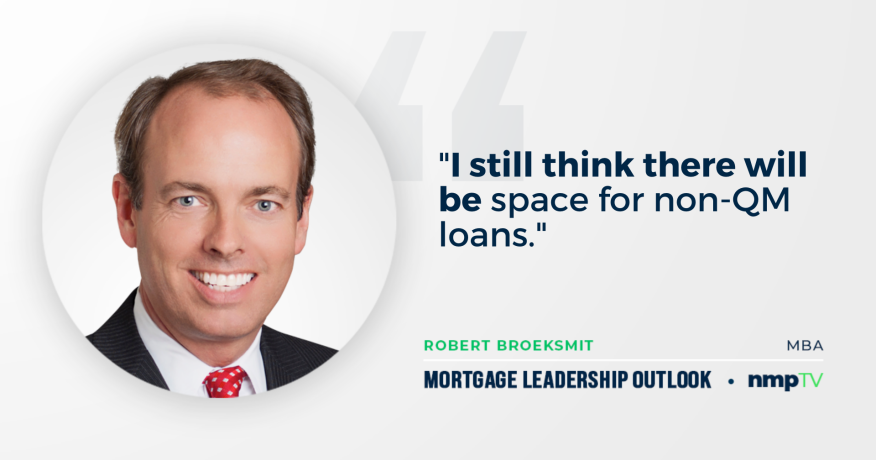 Wednesday's episode of Mortgage Leadership Outlook featured Robert Broeksmit, president and CEO of the Mortgage Bankers Association. He joined host Andrew Berman, head of engagement and outreach for National Mortgage Professional magazine, as they discuss the FHFA and the MBA relationship, the adverse market fee, and more.
Broeksmit is a senior finance executive and corporate officer with a 33-year career in the mortgage sector. He has directed all aspects of lending activities, including marketing, sales, operations, secondary marketing, loan servicing, and default management. He has also served as a mortgage underwriting expert testifying on many large, high-profile cases.
Broeksmit and Berman discussed the MBA's role in fighting the adverse market fee introduced by the Federal Housing Finance Agency. It would have added a 50 basis points fee (0.5%) to most mortgage refinances starting Sept. 1, 2020. Its implementation was eventually postponed until Dec. 1.
Highlights from the interview:
"This is the most stunning and ill-considered move I can imagine," said Broeksmit when asked about the fee. "You have the combination of an almost immediate effective date, in the midst of the fullest pipelines, probably in our lifetimes, and precious little explanation for why this was happening. Applying only to refinances which generally speaking are at lower risks than purchases, the whole thing didn't work together. It was going to cost the industry hundreds of millions of dollars and it was going to catch unsuspecting refinance applicants off-guard because if you are floating your rate and you didn't lock and the lenders hear there is going to be a 50 basis point fee, that's getting added straight to your cost."
"We swung into action with the action alliance. We produced 86,000 letters to the House and the Senate. We worked very closely with industry partners to sound the alarm on this. I think where we ended up, which is an acknowledgement that Fannie and Freddie will have costs by extending this relief through the pandemic and it's not inappropriate for their revenue to help compensate for those costs, but to do it in a way that protects the pipeline and consumers with that new Dec. 1 implementation date. Then, I feel very strongly about this and lobbied personally for this, it exempts the people least able to afford it."
"I think that there is plenty of room for good loans to creditworthy borrowers, that are sustainable that will be non-QM. I still think there will be space for non-QM loans."
In terms of the pandemic and communication between the MBA and its members, he said the MBA is in the midst of a study on how effectively they were communicating. Broeksmit said the MBA began over-communicating as the pandemic hit and they have had 15 all-member calls with 13,300 participants, 18 leadership calls with 1900 attendees and 81 webinars with 22,783 participants.
Broeksmit said the MBA wanted to increase the value of being a member of the MBA and increased the volume of their webinars, especially on a real-time basis within 48-hours of a topic coming up.
 
Check out the full interview between Broeksmit and Berman below.
Previous guests include Josh Friend, Joe Dahleen, Tim Nguyen, Kristy Fercho, Tony Thompson, Mat Ishbia, David Luna, Barry Habib, Rob Chrisman and more.
See all the interviews from the Mortgage Leadership Outlook series on its YouTube channel.