Christopher Gallo Is Next Up On The Mortgage Leadership Outlook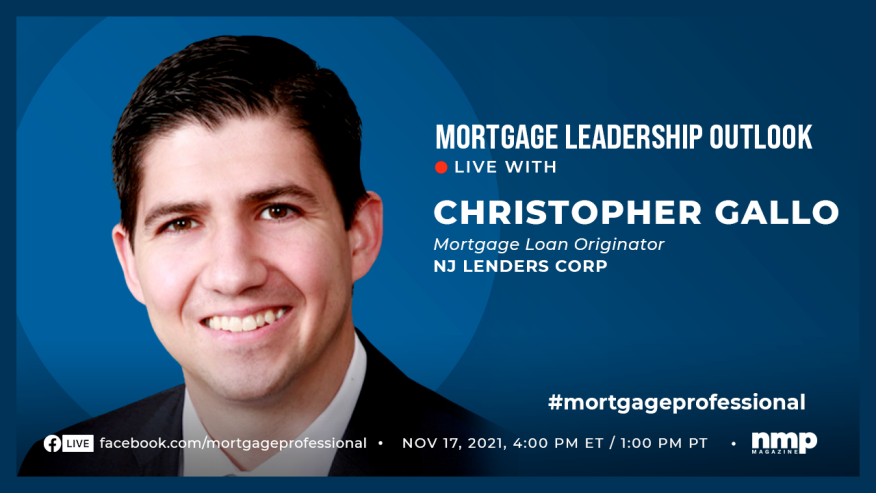 Christopher Gallo, a mortgage loan originator for NJ Lenders Corp., will appear on the Mortgage Leadership Outlook on Wednesday, Nov. 17.
In this week's upcoming episode of the Mortgage Leadership Outlook, Gallo and Andrew Berman will discuss how he went from being a good producer to a mega-producer, his daily habits, Gallo's plan as we shift to a purchase-focused business, and more.
Gallo has been in the mortgage industry since 2001 and joined the NJ Lenders team in 2012. He received some of the industry's highest honors, including a place in the Scotsman Guide Top 200 from 2014-2019, the Top 25 in 2019, as well as the Top 10 and Top 4 in 2020. With over 1,000 positive reviews from previous clients, Gallo earned his positive reputation while gaining extensive experience with first-time buyers, jumbo loans, and condos.
Within the state of New Jersey, Gallo helped more than 10,000 families purchase and refinance their homes over the last twenty years. He describes himself as a hands-on guy, as he and his team focus on providing a smooth experience and securing the most competitive deal for their clients.
Join in on the conversation with Gallo and Berman. Log on to the NMP Facebook page and post your questions in the comments section. Gallo and Berman will be answering questions live, and discussing important topics in the industry at 4 P.M. EDT, Wednesday, Nov. 17.‍
Previous guests include Robert Broeksmit, Josh Friend, Joe Dahleen, Tim Nguyen, Kristy Fercho, Tony Thompson, Mat Ishbia, David Luna, Barry Habib‍, Rob Chrisman, and more.
See all the interviews from the Mortgage Leadership Outlook series on its YouTube channel.