Fannie Mae: Home-Price Growth Decelerated In 4Q 2022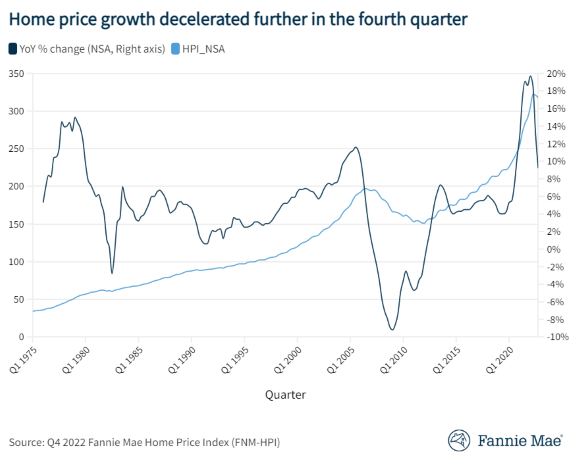 Home prices in the quarter grew at 9.2% YOY, down from 13.1% YOY in the third quarter.
KEY TAKEAWAYS
On a quarterly basis, home prices rose a seasonally adjusted 0.2% in the fourth quarter of 2022.
Prices for single-family homes increased at a slower rate in the fourth quarter of last year, according to the latest reading by Fannie Mae.
According to Fannie Mae's Home Price Index (HPI), single-family home prices increased at a non-seasonally adjusted annual rate of 9.2% in the fourth quarter of 2022 compared to the same quarter last year.
That was down from the third quarter's revised annual growth rate of 13.1%, Fannie Mae said. 
The HPI is a national, repeat-transaction home-price index measuring the average quarterly price change for all single-family properties in the United States, excluding condos, the government-sponsored enterprise said.
On a quarterly basis, home prices rose a seasonally adjusted 0.2% in the fourth quarter of 2022, just above the 0.1% growth seen in the previous quarter. On a non-seasonally adjusted basis, home prices declined by 1% in the fourth quarter.
Mark Palim, Fannie Mae vice president and deputy chief economist, said prices are falling because fewer consumers could afford to buy a home.
"The rise in mortgage rates over the past year and record inflation have constrained the purchasing power of prospective homebuyers," Palim said. "The resulting affordability pressures are evident in the home-price declines of the past two quarters, along with the downturn in home sales." 
He added that the increases in mortgage rates in the quarter "exacerbates the 'lock-in effect'" — in which existing homeowners with rates well below the current market rates have no financial incentive to give up their mortgage to buy a different home at a higher rate.
That reluctance to sell, Palim said, reduces the supply of homes available for sale. 
"We believe that a key factor that will impact home prices in 2023 is how the tension between a reduced supply of homes available for sale and lower mortgage demand is resolved," he said.
Fannie Mae said its HPI is produced by aggregating county-level data to create both seasonally and non-seasonally adjusted national indices that are representative of the whole country and designed to serve as indicators of general single-family home-price trends. 
The HPI is publicly available at the national level as a quarterly series with a start date of the first quarter of 1975 and extending to the most recent quarter. 
Fannie Mae added that its home-price estimates are based on preliminary data available as of the date of index estimation and are subject to change as additional data become available.