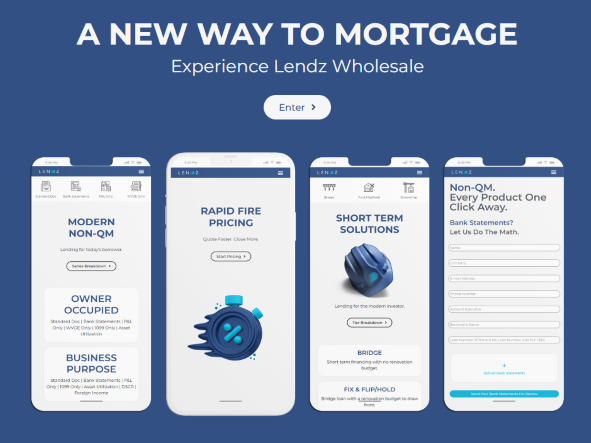 Reliable Holdings Manager dba Lendz chose LendingPad as its loan origination system.
Reliable Holdings Manager LLC, doing business as Lendz Financial, recently announced it has entered the wholesale market. 
Lendz, a Miami-based, tech-centric residential mortgage lender, said it chose LendingPad as its loan origination system (LOS), integrating the system to support its new venture in wholesale. 
The integration focuses on creating the most straightforward lending experience for brokers, the companies said, by effectively using technology, outside-the-box thinking, and organizational solutions that streamline the mortgage process.
"LendingPad is excited to be working with wholesale lenders such as Lendz to simplify the process for brokers everywhere," said Dan Smith, vice president of sales and strategy at LendingPad. "As the wholesale space continues to grow, LendingPad is dedicated to facilitating scalable solutions to keep its users competitive in this market."
Lendz Financial CEO Cesar Hernandez Jr. also praised the collaboration.
"From day one, our focus has been to simplify mortgage lending and maintain competitive pricing. We make every effort to present our TPO partners with a straightforward, uniform path to funding," he said. "By partnering with LendingPad we are able to give mortgage brokers a modern loan origination system and consolidate our lending activities to a single web tab. We believe inconsistencies and the need to 'jump through hoops' plagues the mortgage industry, and partnerships like this allow Lendz to provide a breath of fresh air for brokerages nationwide." 
In addition to its innovative technology, LendingPad also offers a live, U.S.-based support team that is available in five different languages, as well as an extensive collection of training resources, the companies said.
Lendz Financial is a wholesale lender that partners with mortgage brokers to provide access to a full portfolio of Non-QM, bridge, fix & flip, and ground up construction products. Reliable Holdings originated $56.2 million in loan volume over the past 12 months, according to Modex.
LendingPad, based in McLean, Va., is a modern LOS serving lenders, brokers, bankers, and credit unions, offering centralized and compliant automated technology to the mortgage industry.