Mortgage Delinquency Rate Down 15% YOY In January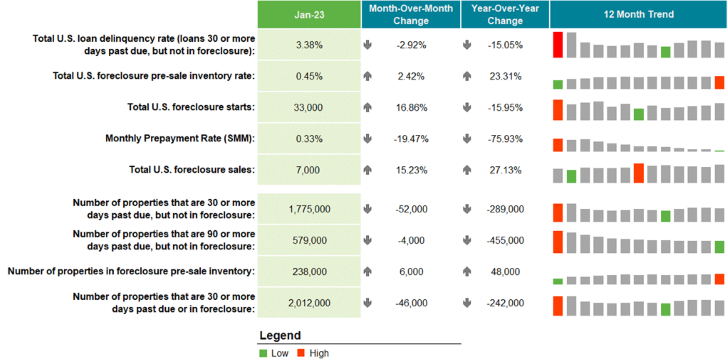 Black Knight adds McDash data on 200M loans to its report.
KEY TAKEAWAYS
Foreclosure starts saw a fourth straight increase, but remain 37% below pre-pandemic levels.
Active foreclosures are up 20% since January 2022, but remain nearly 20% below pre-pandemic levels.
Prepayment activity hit yet another record low for the fourth consecutive month.
Mortgage delinquencies were down across the board nationwide in January, with the overall delinquency rate declining 10 basis points to 3.38% month over month, and down 15.1% year over year, according to a report from Black Knight.
The software, data, and analytics company released its "first look" at monthly mortgage performance for January on Friday, and said the number of borrowers who are 30-days late with a mortgage payment decreased by 46,000 (-4.8%), while 60-day delinquencies also ticked down slightly.
Serious delinquencies — those 90 or more days past due — continued to improve nationally, declining by 4,000, with such inventories falling in 44 of the 50 states. Florida, which is still dealing with the aftermath of Hurricane Ian, saw another 1,700 loans fall into serious delinquency, the report said.
Foreclosure starts rose 17% in January to 33,000, the fourth consecutive monthly increase, but they remain 37% below pre-pandemic levels. Foreclosure was started on 5.6% of serious delinquencies in January, but that also is still 48% below the rate in January 2020.
The inventory of active foreclosures rose 2.5% in January and is now up 48,000, or 20%, since January 2022, but it remains nearly 20% below pre-pandemic levels.
A total of 7,000 foreclosures were completed nationally in January, up 15.2% from the month prior, but that's still nearly half of the level seen in early 2020.
Black Knight also said the rising rate environment continues to affect mortgage prepayments — historically driven largely by refis and home sales. January saw the lowest level of prepayment activity on record (since 2000, when Black Knight first began tracking the metric), the company said. It was the fourth consecutive record low for monthly prepayments.
In releasing its latest "first look" report, Black Knight said it is now applying expanded McDash loan-level mortgage data in its public metrics reporting, which represents more than 60% of active mortgages nationwide. McDash is the industry's leading repository of servicer-contributed performance data, Black Knight said, with detail on more than 200 million active and historical mortgages.
"Prior to this, visibility into these portfolios — representing millions of loans and a dynamic cross-section of the market — simply hasn't been available at this level of granularity in public performance metrics," said Ben Graboske, president of Black Knight Data & Analytics.
"Given the fundamental changes we've seen in the market's makeup — even before the pandemic — and as the industry and wider economy move ahead into an uncertain future, this additional visibility couldn't come at a more important time."
Black Knight said it will provide a more in-depth review of mortgage performance data in its monthly Mortgage Monitor report, which will be released in early March.