Pending Home Sales Grow For 3rd Straight Month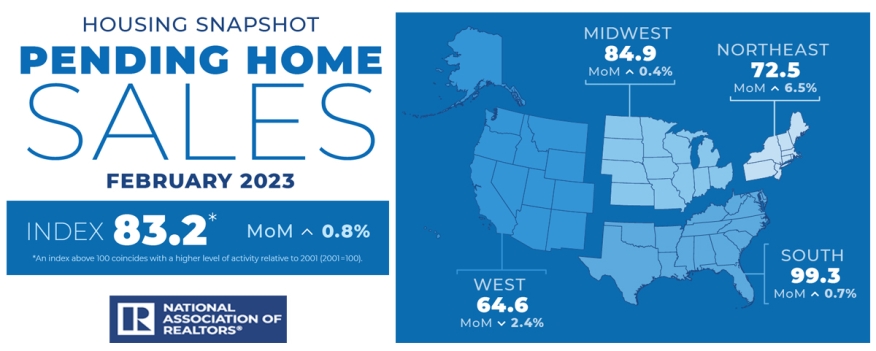 NAR's Pending Home Sales Index rose 0.8% in February.
KEY TAKEAWAYS
Pending home sales rose for the third consecutive month, up 0.8% from January.
Month-over-month, contract signings increased in three U.S. regions but declined in the West.
Pending home sales decreased in all four regions compared to one year ago.
Pending home sales grew in February for the third straight month, another sign that the housing sector is rebounding, the National Association of Realtors (NAR) said Wednesday.
Pending sales grew month over month in three U.S. regions, while they declined in the West. All four regions saw year-over-year decreases in transactions, the NAR said.
NAR's Pending Home Sales Index (PHSI) — a forward-looking indicator of home sales based on contract signings — improved 0.8% to 83.2 in February. Year-over-year, pending transactions fell 21.1%.
An index of 100 is equal to the average level of contract activity during 2001, which was the first year to be examined. The volume of existing-home sales in 2001 fell within the range of 5 to 5.5 million, which is considered normal for the current U.S. population.
"After nearly a year, the housing sector's contraction is coming to an end," said NAR Chief Economist Lawrence Yun. "Existing-home sales, pending contracts, and new-home construction pending contracts have turned the corner and climbed for the past three months."
Regional Breakdown
The Northeast PHSI in February increased 6.5% from the prior month to 72.5, though that was still a drop of 17% from February 2022.
The Midwest index improved 0.4% to 84.9 in February, down 16.5% from a year ago.
The South PHSI grew 0.7% to 99.3 in February, dropping 21.7% from a year earlier.
The West index decreased 2.4% in February to 64.6, shrinking 28.4% from February 2022.
"The affordable U.S. regions — the Midwest and South — are leading the recovery," Yun said. "Mortgage rates have improved in recent weeks after the federal government guaranteed the status of most mortgages amidst uncertainty in the financial market. While access to commercial mortgage loans could become increasingly difficult, residential mortgage loans are expected to be more readily available."
Realtor.com Chief Economist Danielle Hale said that, "because contract signings precede home sales, [Wednesday's] data suggest that February's pick-up in home sales may not be a one-off, especially as home sales prices have begun to ease in response to the affordability hurdles the combo of high rates and home prices presents"
"In the big picture," she added, "this improvement is one to celebrate, but with nationwide pending sales lagging behind year-ago levels by 21.1% and regional pending sales down 17% to 28% from a year ago, the improvement is going to be gradual."
The Pending Home Sales Index is a leading indicator for the housing sector, based on pending sales of existing homes. A sale is listed as pending when the contract has been signed but the transaction has not closed, though the sale usually is finalized within one or two months of signing.
The amount of time between pending contracts and completed sales is not identical for all home sales. Variations in the length of the process from pending contract to closed sale can be caused by issues such as buyer difficulties with obtaining mortgage financing, home inspection problems, or appraisal issues.
The NAR's index is based on a sample that covers about 40% of multiple listing service data each month. In developing the model for the index, it was demonstrated that the level of monthly sales-contract activity parallels the level of closed existing-home sales in the following two months.
The National Association of Realtors is America's largest trade association, representing more than 1.5 million members involved in all aspects of the residential and commercial real estate industries.