Russia-Ukraine Conflict May Dampen U.S. Mortgage Rates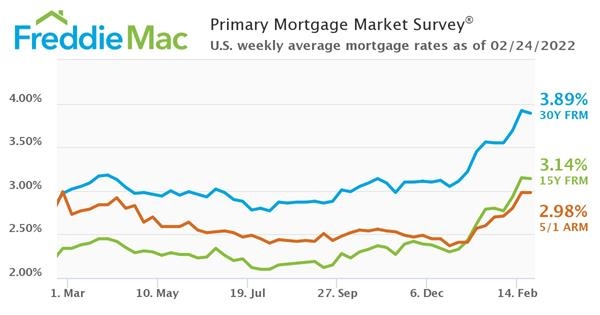 Freddie Mac survey finds rates had fallen slightly over the past week; economists say conflict one reason for that.
As war rages in Ukraine, its effect on the United States housing industry could be a mixture of good and bad.
After Russian tanks and troops stormed across the border on Thursday, mortgage rates halted what had been a fairly steady climb over the past couple of weeks. 
Freddie Mac's Primary Mortgage Market Survey (PMMS) on Thursday reported that the 30-year, fixed-rate mortgage (FRM) averaged 3.89%, down from 3.92% a week earlier.
The rate, however, was still up significantly from the same point last year, when the 30-year FRM averaged 2.97%.
"Even with this week's decline, mortgage rates have increased more than a full percent over the last six months," said Sam Khater, Freddie Mac's chief economist.
Still, mortgage and housing industry economists say the conflict in Ukraine could dampen rates.
Taylor Marr, deputy chief economist for Redfin, said there are a few ways the fighting in Ukraine will affect the U.S. housing market.
"Financial markets could plummet further into a correction, because global markets hate conflict and investors do not like uncertainty," Marr said. "Many homebuyers are relying on stock for a down payment or tapping into their 401(k), especially as higher home prices require more cash for a down payment. This is particularly pronounced in expensive tech hubs like the Bay Area, Seattle, and Austin."
Marr continued, "Investors' flight to safety into the bond market is also driving up demand for treasuries, raising prices and lowering yields. This means that mortgage interest rates are anchored lower (3.89% on Thursday)."
Marr also said the Federal Reserve now has more reason to fight inflation by raising rates, "winding down the mortgage-backed securities on its balance sheet, which could put upward pressure on mortgage rates if investors haven't yet priced this in."
First American Deputy Chief Economist Odeta Kushi agreed that the conflict will have an impact. 
"While mortgage rates trended upward in 2022, one unintended side effect of global uncertainty is that it often results in downward pressure on mortgage rates," she said. "The 10-year Treasury yield is down (Thursday), likely in response to the worsening Russia-Ukraine conflict, and mortgage rates may follow suit."
She added, "Geopolitical events play an important role in impacting the long end of the yield curve and mortgage rates. For example, in the weeks following the 'Brexit' vote in 2016, the U.S. Treasury bond yield declined and led to a corresponding decline in mortgage rates."
The yield opened today at 1.972% and was holding below 2% this morning.