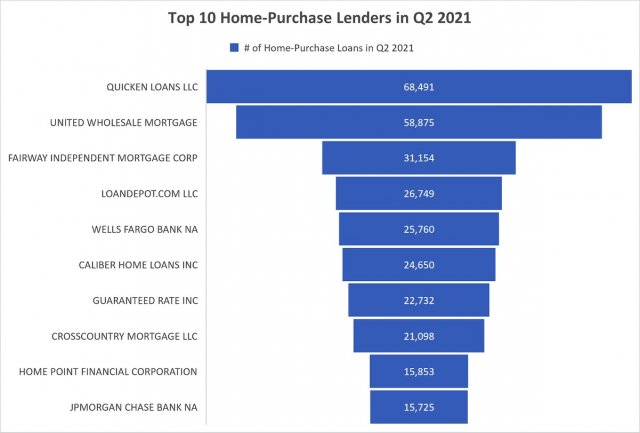 ATTOM's newly released Q2 2021 U.S. Residential Property Mortgage Origination Report revealed that the number of mortgages secured by residential property originated in Q2 2021 in the U.S. was up 29 percent from Q2 2020, but down 3 percent from Q1 2021.
According to ATTOM's latest residential property mortgage origination analysis, the quarterly decline in overall mortgage lending in the U.S. marked the first decrease since early in 2020, as well as the first time that happened from a Q1 to a Q2 period since 2011.
The Q2 2021 report noted that lenders issued $1.18 trillion worth of mortgages in the second quarter, also up annually by 39 percent, but down quarterly by 1 percent. ATTOM's new report also noted that rare quarterly drop-off came as a decrease in refinance activity canceled out a rise in home-purchase and home-equity lending.
ATTOM's Q2 2021 mortgage origination analysis found that lenders refinanced 2.23 million home loans in Q2 2021, up 26 percent from Q2 2020, but down 15 percent from Q1 2021. The report noted the last quarterly decrease in refinancing activity came in early 2020, while the last time the number dropped from a Q1 to a Q2 period was in 2017. The Q2 dollar volume of refinance loans rose annually, by 26 percent, but went down quarterly, by 15 percent, to $674.7 billion.
However, refinance mortgages still accounted for a majority of all home-lending activity in Q2 2021, but the portion dipped from 67 percent to 59 percent, the biggest downward change in four years.